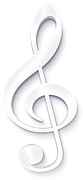 CfA Policies and Fees
---
Now offering private instruction in:
Brass, Guitar, Organ, Piano, Strings, Woodwinds and Voice
---
Policies:
Welcome to the Center for the Arts at St. Peter's! Please note our policies below regarding fees, timely payment, and our expectations of students and families involved in our program.
TUITION
1)
A non-refundable deposit of $50.00 is payable at time of registration of new students.

2)
Tuition is based on a four-lesson cycle.

3)
Payment is due on the 1st of the month. All fees are payable to St. Peter's Episcopal Church, and should be designated for "Center for the Arts at St. Peter's".

4)
A $25 late fee will be assessed if payment is not received by the 15th of each month.
Private Lesson Tuition (2015-2016 rates)

for 45 and 60 minute lessons)
30 minute lesson: $140.00
45 minute lesson: $180.00
60 minute lesson: $220.00
ATTENDANCE POLICY
In order to make progress, regular attendance at lessons is required. If a lesson must be rescheduled for a significant excuse, 24 hours notice is required; otherwise, there will be no refund for that lesson, and the lesson will not be rescheduled. Make-up lessons will be scheduled at the convenience of the teacher and the student, but should be rescheduled as soon as possible.
PARENTS' PARTICIPATION
Regular practice is essential. Each teacher will assign specific work to be accomplished for the next lesson. Parents should assist younger students as much as possible, therefore, parents are always invited to lessons. Practice with your children. It's important that they know this is important to you, and that you, too, have expectations of their progress. It is highly unlikely that a student will ever "have nothing to practice." Help us to teach them effectively by taking part in their education. Be sure to attend their public performances, both through the Center for the Arts and any time they have an opportunity to perform publicly!
---
Private Lessons:
Four 30-minute lessons @ $140
Four 45-minute lessons @ $180
Four 60-minute lessons @ $220
---
---
Summer 2016 Group Classes:
Music-Enrichment: 6 classes @ $120
(one 60-minute class, three times a week for two weeks)
---
Group Guitar: 6 classes @ $220
(one 120-minute class, three times a week for two weeks)
---
---
Fall 2016 Group Classes:
NYSSMA Aural Skills: 4 classes @ $100
(one 60-minute class, once a week for a month) *rolling registration*
---
---