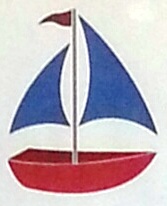 St. Peter's by-the-Sea Early Learning Center
….where children sail into the future!
Bay Shore, NY
The Preschool office is located on the church side of the building through the 4 large wooden doors.
St. Peter's by-the-Sea Preschool is getting ready for our upcoming September 2013 school year! We are very excited about our new programs! Our learning center offers learning enriched programs for 2's, 3's, and 4 year-old children. Additional programs for younger children, such as "Mom & Tot" classes allow parents to come together with other families to learn and play in our center. All preschool classes are taught by a NYS certified and experienced teacher and teacher assistant. Our Mom & Tot programs are lead by a NYS certified Speech Pathologist and NYS certified teacher and fluent Spanish Speaker. After hours, we offer art classes, private & small group tutoring , and professional reading evaluations.
Preschool Classes:
Our new preschool programs will follow the NYS Pre-Kindergarten Learning Standards.
Prekindergarten programs are designed to enhance school readiness and lay the foundation for later formal school achievements. Children are active learners. A primary approach to learning is through purposeful play. Intentional planning promotes rich learning experiences that invite participation, involve multiple contexts, and engage the senses that help children explore their environment. Program classrooms will be created using a learning centers and discovery stations consisting. These areas will allow children to learn, explore, and grow with the guidance and support of their teachers.
All programs will introduce skill development in all areas of learning.
For example:
Physical Health and Development
Social and Emotional Development
Communication, Language, and Literacy
Cognition and Knowledge of the World
Lessons and activities will incorporate fun and exciting experiences for children where they can explore the classroom and find their place as a learner. Math, science, alphabet awareness, fine/gross motor skill development, and many other activities will help introduce children to the world around them! Parents will be partners in their child's learning program. Special activities and celebrations will help build the partnership between parents and our preschool. We look forward to a fun-filled, exciting, and memorable school year, as we watch our preschoolers "sail into the future!"
Our programs:
Preschool
Mom & Tot
Art Classes
Tutoring
Private Reading Evaluations
Summer Camp