Please click the picture below to see the service booklet.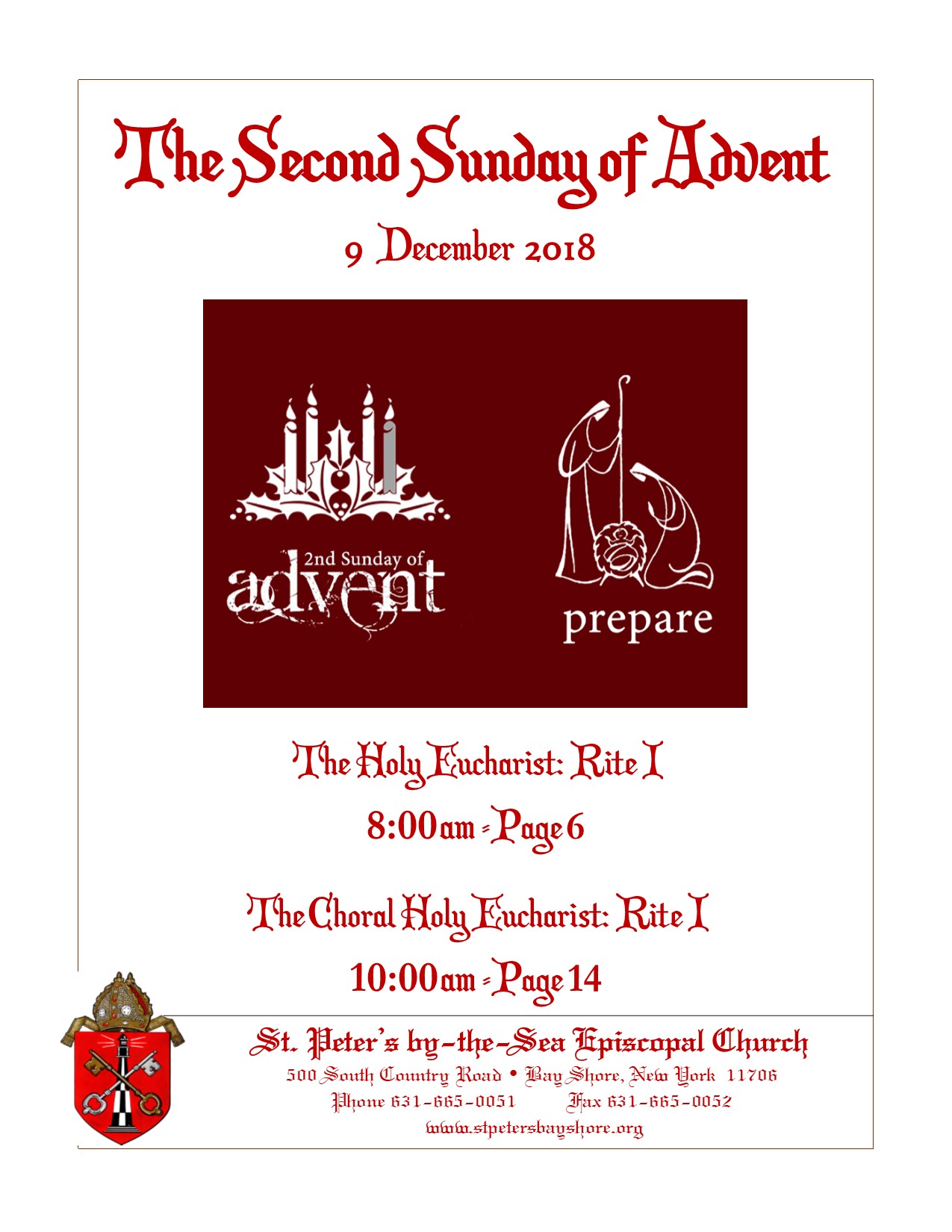 ---
—Parish Notices —
The St. Peter's ECW wishes to thank all who participated, baked, attended or helped in any way to make the 2018 Christmas Fair a success! Special thanks to Bishop Itty, Sal Basile, Mark Engelhardt, and especially "St. Nicholas" for his timely visit.
The Deadline for reservations for the ECW's Christmas Luncheon this Thursday, December 13 is TODAY, December 9. The cost for ECW members is $15, and guests $18. Please call Joan Derle (631-499-8234) for further information.
Next Sunday, December 16th, we will begin the 10am Eucharist with Choral Matins (Morning Prayer), and on December 23rd, we will begin with the Sunday School Christmas Pageant. Please note that we will NOT have a Family Service at 4pm on Christmas Eve, and the Festival Christmas Eve Eucharist will begin at 9pm. The full schedule of special services and concerts of the season is listed below.
The Parish Choir and Soloists with Orchestra will present G. F. Handel's "Messiah" Next Sunday, December 16 at 4pm. Suggested donation is $20/$15 students and seniors. All are invited to join us for this revered Christmas musical tradition.
The Ongoing Food Pantry Wish List for this week includes these items: Non-perishable foods that can be opened and eaten, especially cereal, tuna fish, soup beans, mac&cheese, corned beef hash, canned chicken, canned ravioli, spaghetti O's, etc.
The Angel Tree: Please consider adopting someone in need of a "Santa Clause" this Christmas. Wrapped gifts may be returned to the church by Sunday morning, December 16th for delivery in time for Christmas. As always, thanks for your generosity!
Bible Study continues on Sundays between services and on Tuesdays at 10:30am. All are invited!
ADVANCE NOTICES: On Sunday, January 6, The Feast of the Epiphany, the 10am service will begin with Lessons and Carols for Epiphany, identical in form to the service last week. This service will provide a "bookend" to the seasons of Advent and Christmas. The ANNUAL PARISH MEETING will be on Sunday, January 20. There will be only one service that day, beginning at 9am in the Church and concluding the meeting in the Parish Hall.
---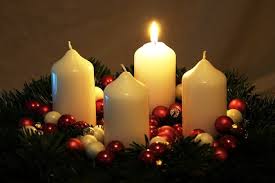 An Advent Message from Bishop Itty
My Dear Brothers and Sisters in Christ,
This season of Advent and Christmas is a reminder of God's love for each and every one of us. Advent is a time of spiritual preparation for the renewal and transformation that is to come through the birth of Jesus Christ. The mystery of the Incarnation is a reminder that God continues to work in mystery and wonder throughout human history to bring order out of chaos, hope out of despair, and abiding love, which overcomes all the forces of evil in our world.
Advent is a penitential season of personal commitment to repent and renew and transform our lives in a manner that is wholesome and pleasing to the Lord. Christmas is a tangible reminder of God's great mystery and love which can transform all that may not be well in life, both within and around us. Indeed, the birth of Jesus, represents God reaching out to our world, and to each one of us, to enter the fullness of His redemptive grace.
As we enter the darkest time of the year, we adorn our homes, churches, and public places with light, candles, and a multitude of visible reminders of the joy that this season offers. The light of Christ, dispels all darkness around us. In the midst of joy, Christ comes. In the midst of sadness and disappointment, Christ comes. In all manner and circumstances of human life, Christ comes. Indeed, the message of this holy season is a call for each one of us to prepare our hearts and minds for the majesty and mystery of Christ's birth. It is a clarion call that reminds us that there is hope, forgiveness, reconciliation, and a new beginning through the mystery of the Incarnation of Jesus Christ.
I pray that in the weeks to come, this holy Advent and Christmas season will bring to you and your loved ones, Christ's peace and abiding joy. May the mystery and miracle of Christ's birth encourage each one of us to more fully experience the many wonderful miracles of God's love made manifest in our own lives. As we celebrate Christ's birth, may we also give thanks for our loved ones, for one another, for our church family, community, and our nation, and for those unacknowledged blessings which we enjoy from the hands of Almighty God. And, whenever, we feel discouraged, lonely, or afraid, may we mindful if these words of scripture that remind us that with God, all things are possible:
"...Do not be afraid, Mary, you have found favor with God. You will be with child and give birth to a son, and you are to give him the name Jesus. He will be great and will be called the Son of the Most High. The Lord God will give him the throne of his father David, and he will reign over the house of Jacob forever; his kingdom will never end."
"How will this be," Mary asked the angel, "since I am a virgin?"
The angel answered, "The Holy Spirit will come upon you, and the power of the Most High will overshadow you. So the holy one to be born will be called the Son of God. Even Elizabeth your relative is going to have a child in her old age, and she who was said to be barren is in her sixth month. For nothing is impossible with God." (Luke 1:30-37)
May the blessings of this holy Advent and Christmastide bring to you and your family, joy, good health, happiness, and Christ's abiding peace.
Faithfully Yours,
Bishop Johncy Itty
---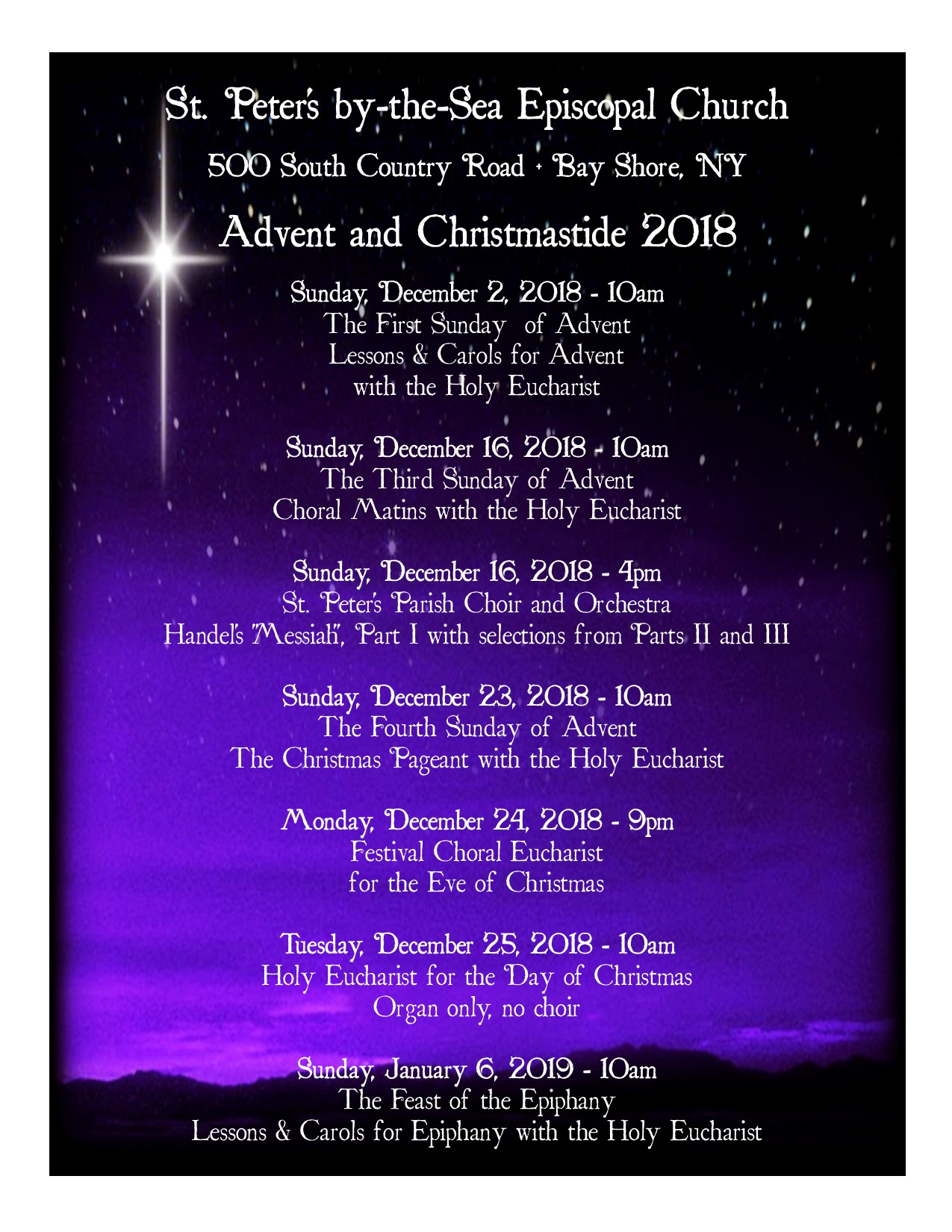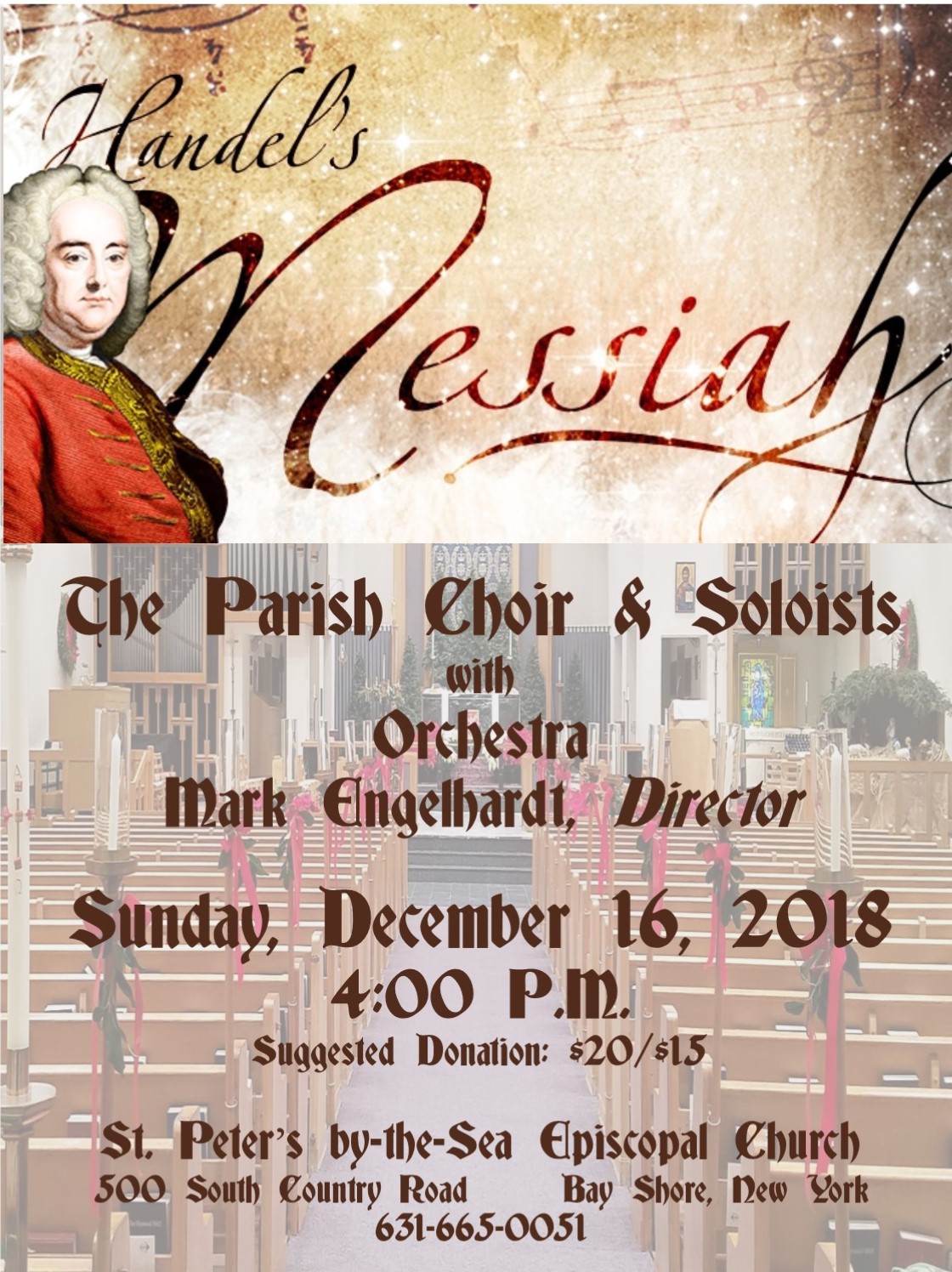 ---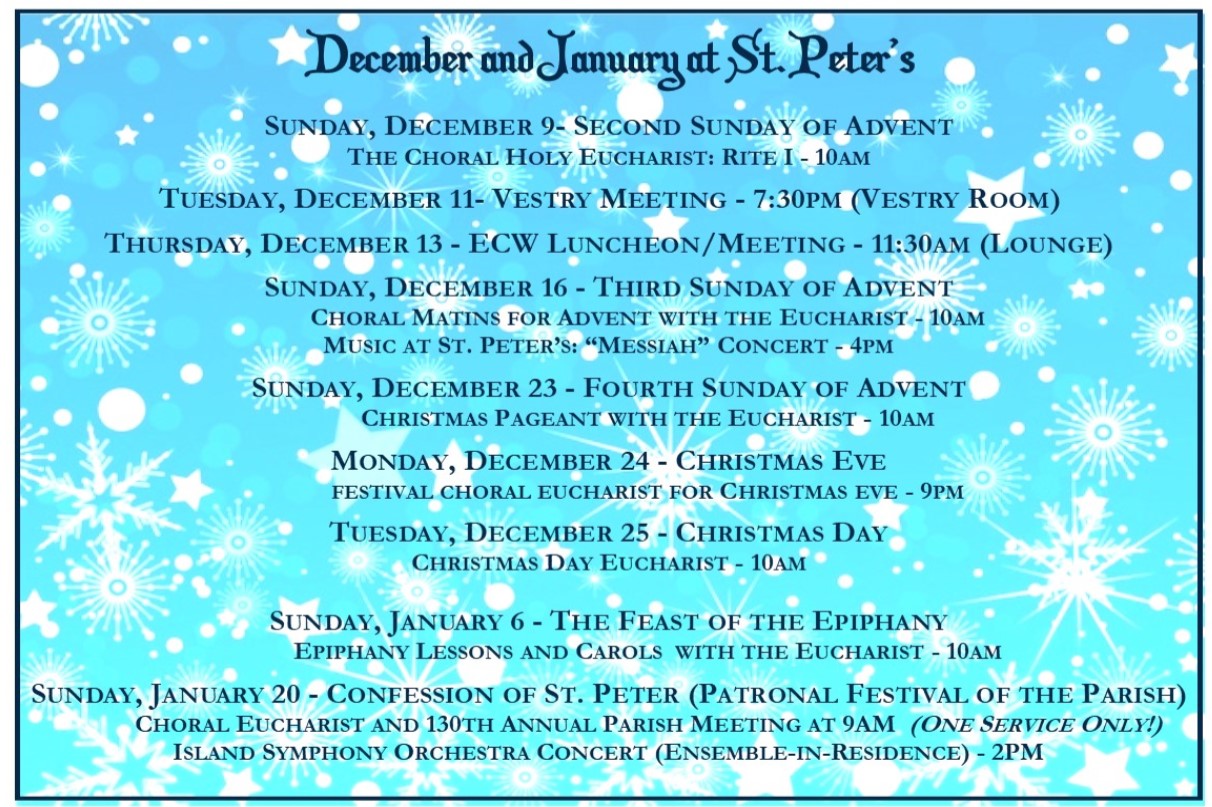 ---
MUSIC AT ST. PETER'S CONCERTS 2018-2019
Click the Picture to see the Brochure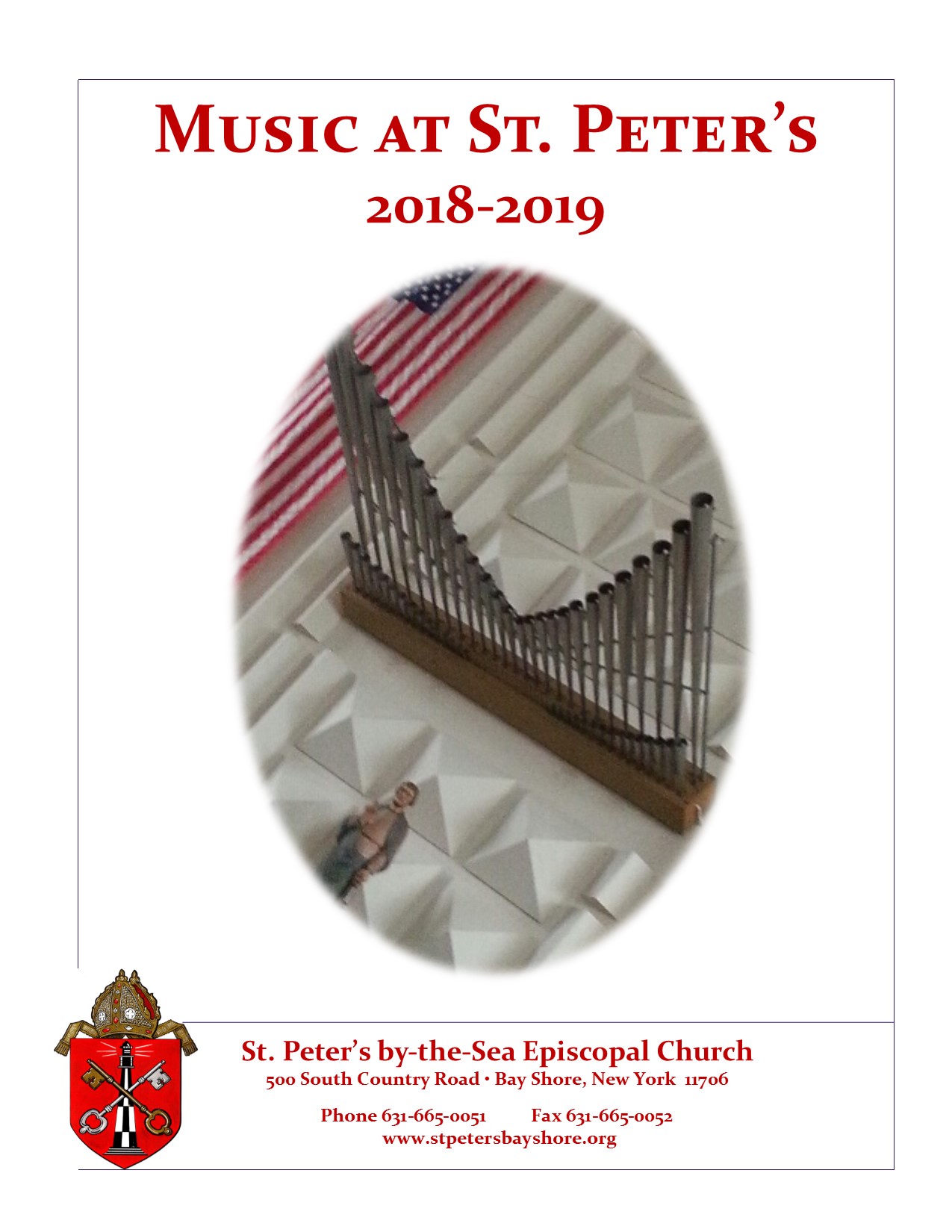 ---
Weekdays:


Bible Study: Tuesdays at 10:30 am

Parish Office is open Monday through Friday 9:30 am until 2 pm.

A warm welcome will greet you at St. Peter's!
St. Peter's by-the-Sea Episcopal Church
500 South Country Road
Bay Shore, NY 11706
Phone: 631-665-0051
Fax: 631-665-0052
Join us on FACEBOOK

www.facebook.com/StPetersbytheSea
www.facebook.com/StPetersBytheseaEarlyChildhoodLearningCenter
https://www.facebook.com/stpeterstreblechoir/
AND FOLLOW US ON TWITTER
https://twitter.com/stpetersbaysho1