The Second Sunday of Advent

(Year A)
Click on the picture to see the leaflet for this Sunday.
---
— Parish Notices —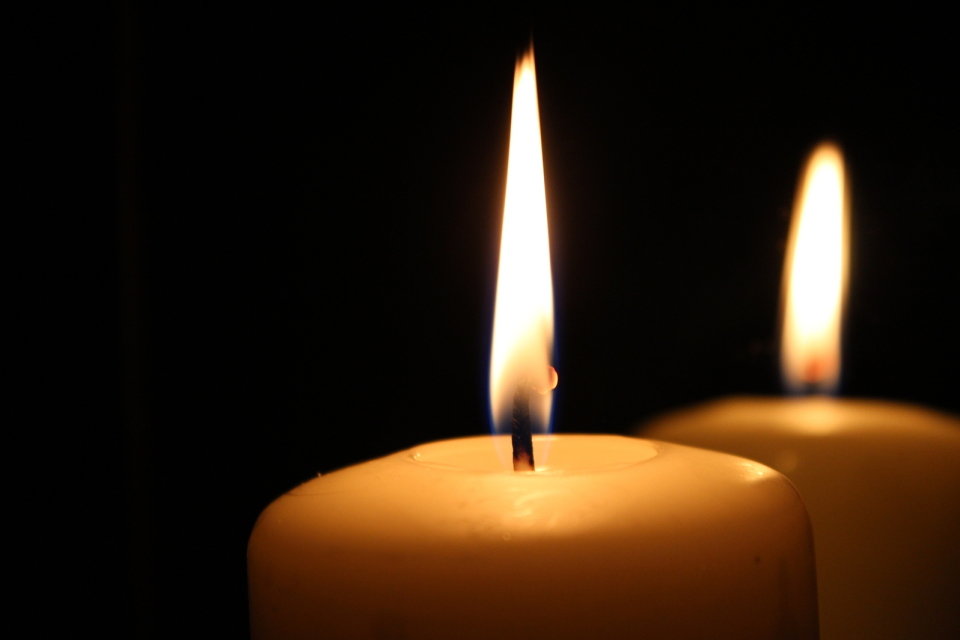 Bible Study continues on Sundays between services and on Tuesdays at 10:30am. All are invited!
This morning, we will begin the 10am Eucharist with Choral Matins (Morning Prayer), a favorite service for many "Old Timers" Episcopalians! Morning Prayer (Matins) and Evening Prayer (Evensong) are two of the most prized services of the Anglican Church. Archbishop Cranmer, the author of the English Prayer Book combined three services of the seven daily Monastic liturgies for Morning Prayer and two others for Evening Prayer. Until the 1970's, it was common practice in many Episcopal Churches to offer only Morning Prayer at the principal service on Sunday mornings. This morning, we will observe the option allowed in the Book of Common Prayer 1979 to combine Morning Prayer with the Holy Eucharist.
The Angel Tree is up and decorated with ornaments made by the Sunday School last Sunday. All are invited to take an ornament, each with the name of a person for whom Christmas may be made brighter by our generosity. Wrapped gifts should be placed under the tree no later than Sunday morning, December 22 in order to be delivered on time for Christmas.
The Parish Cleaning Day originally scheduled for Saturday, December 7 has been rescheduled for Saturday, December 14. A signup sheet is in the narthex.
The Greening of the Church is scheduled for Sunday, December 15 immediately following the 10am service. All who would like to stay to help are invited!
December 15, The Third Sunday of Advent: The Parish Choir will lead us in a Service of Lessons & Carols with the Holy Eucharist at the 10am service.
At 4pm that afternoon, SoLi Singers with harpist Maria Banks will present a concert of Holiday Music on the "Music at St. Peter's" Concert Series. This ensemble includes our former organist and choirmaster Cindy Holden and her husband Rex. Suggested donation is $20/$15 students and seniors.
December 19, ECW Christmas Luncheon. Please make your reservations with Linda Brady by December 15.
December 22, The Fourth Sunday of Advent: The Sunday School will present the ever-popular Christmas Pageant at the 10am service. This Annual tradition is a not-to-be missed event!
December 24, CHRISTMAS EVE: The Festival Choral Holy Eucharist for the Eve of Christmas will begin at 11pm.
December 25, CHRISTMAS DAY: The Holy Eucharist for the Day of Christmas will begin at 10am. (Organ only, No Choir)
We have been invited to the Long Island Nets-Faith Night & Fellowship Event on January 17, 2020 at the Nassau Memorial Coliseum, in Uniondale, NY. Please join us for a night of Faith, Fellowship and Professional Basketball for our youth. If interested, contact Brian Clark or Anne Perry.
Food Pantry Needs: Peanut Butter, Canned Soup, Chili, Ravioli, Tuna, Canned Corned Beef.
The Diocesan Weekly Newsletter is on page 29 and the National Church's Sunday Bulletin insert on pages 30 and 31 of this booklet.
---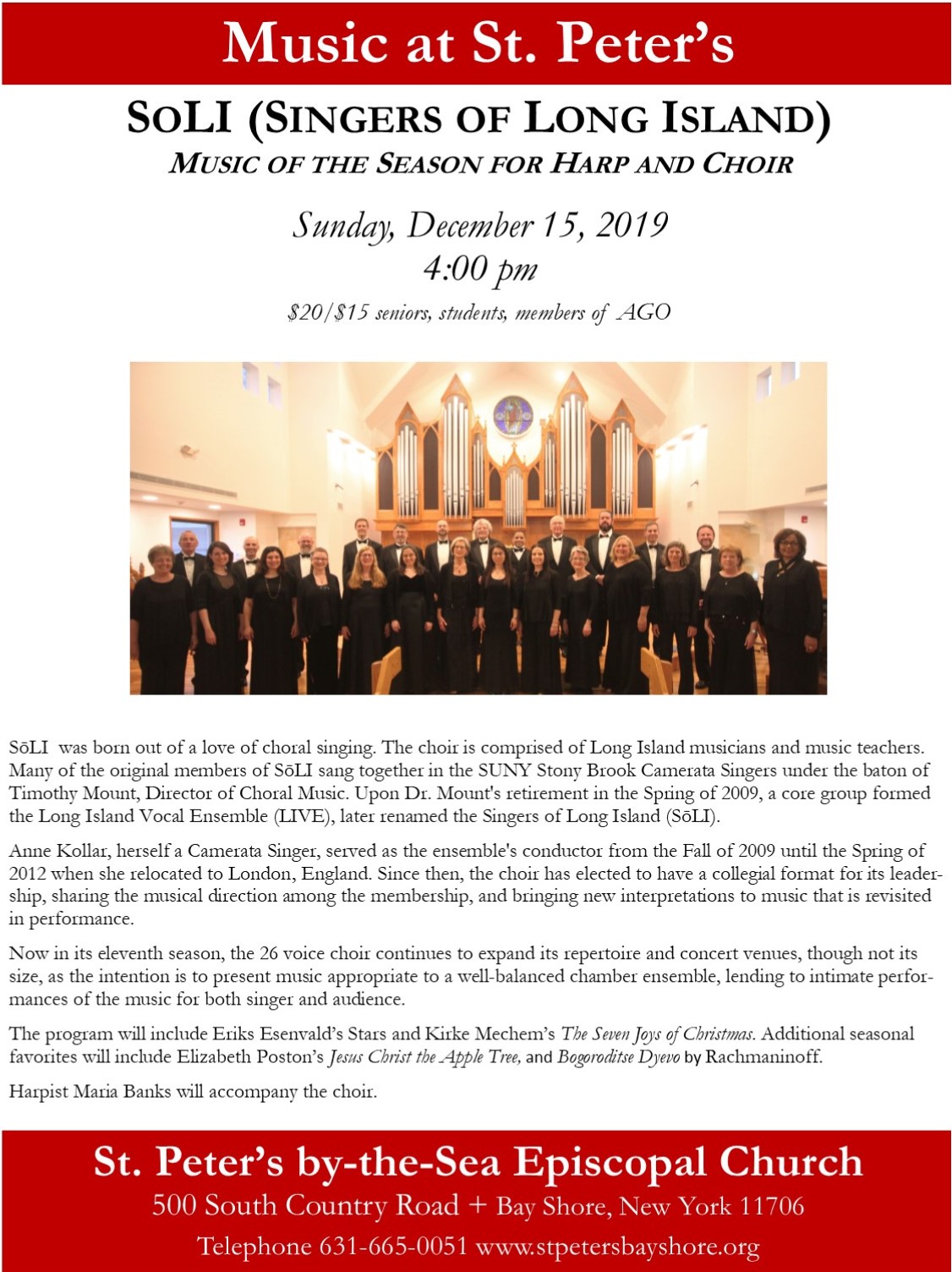 ---
Weekdays:


Bible Study: Tuesdays at 10:30 am
Sundays at 9:00 am
Parish Office is open Monday through Friday 9:30 am until 2 pm.
A warm welcome will greet you at St. Peter's!
St. Peter's by-the-Sea Episcopal Church
500 South Country Road
Bay Shore, NY 11706
Phone: 631-665-0051
Fax: 631-665-0052
Join us on FACEBOOK

www.facebook.com/StPetersbytheSea
https://www.facebook.com/stpetersmusic/
AND FOLLOW US ON TWITTER
https://twitter.com/stpetersbaysho1