The Day of Pentecost:
Whitsunday

24 May 2015


Click on the links to see the leaflets for each service

8 am in St. Edmund's Chapel

10:15 am in the Church
---
— Parish Notices For May 24 —
"Graduates" Preschool through Doctorates will be honored at the services next Sunday. Please be sure to contact Mark (mark@stpetersbayshore.org) or 631-665-0051 x. 24 by Wednesday to provide names and the occasion!
Baccalaureate Service Honoring 2015 High School Graduates at the Cathedral on Saturday, May 30.
You are invited to join Bishop Lawrence Provenzano and Bishop Chilton Knudsen along with the entire diocese in recognizing and blessing our high school seniors as they prepare to transition to the next phase of life. Details on page 9 of the leaflet. Registration is required!
Vespers with a Concert of Anthems will be the final presentation of this season's Music at St. Peter's. The service, sung by the Parish Choir of St. Peter's, will be on Sunday, June 7 at 4:00 pm, wine and cheese reception following. All are invited. Details on page 8.
The Next Altar Guild Meeting will be on Sunday, June 7 immediately following the 8 am service.
The Bay Shore Garden Club will present "South Shore Splendor, June 19 (2-6 pm) and June 20 (10-4 pm) at St. Peter's Church. All are invited. Free Admission.
The Food Pantry is especially in need of Bumble Bee Chunk Light Tuna, LeSueur Sweet Peas, Quaker Instant Oatmeals, Peanut Butter and Jelly.
Join the Fight for Food Independence: anyone interested in helping with the July 4th food donation program should contact Don Metznik at don@metznik.com or 631-921-0979. All work will be completed before the holiday.
St. Peter's Farm Organic Community Supported Agriculture: A ministry of St. Peter's by-the-Sea now accepting memberships for the 2015 season, please contact Vanessa at 631-742-1336 or visit www.stpetersfarm.com.
Bereavement Support Groups: Good Shepherd Hospice Bereavement Services are offered at no charge to anyone in the community who has experienced a loss through death. Bereavement Support Groups, are led by a Bereavement Specialist, and are held at ST. Patrick's Church, Bay Shore. Registration is required – Please call Sheila Felice, LCSW-R at (631) 828-7629.
---
---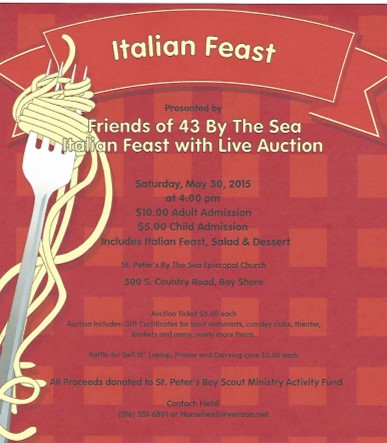 ---
Did you know that you can now donate online and even use our safe and secure parish website for pledging. Look for "Donate" at www.stpetersbayshore.org. You may also now direct your Thrivent Choice Dollars to St. Peter's: Individuals who participate in the Thrivent financial network and have Choice Dollars can designate these dollars to St. Peter's. To learn more, contact your Thrivent rep or call (800) 847-4836 and mention Choice Dollars.
---
MUSIC AT ST. PETER'S WINTER AND SPRING 2015

¨ Sunday, June 7, 4 pm VESPERS The Parish Choir sings
Vespers and a Concert of Anthems. (Free Will Offering)

Additional concert at St. Peter's,but not part of the Music at St. Peter's Concert Series
Sunday, May 10: Women's Chorus of eVoco Voice Collective
4:00 pm

---
Weekdays:
Morning Prayer is read Monday and Wednesday at 9 am.

A warm welcome will greet you at St. Peter's!
St. Peter's by-the-Sea Episcopal Church
500 South Country Road
Bay Shore, NY 11706
Phone: 631-665-0051
Fax: 631-665-0052
Join us on FACEBOOK

www.facebook.com/StPetersbytheSea
www.facebook.com/StPetersBytheseaEarlyChildhoodLearningCenter
https://www.facebook.com/centerforartstpeters