December 11, 2016
Click the picture below to see the leaflet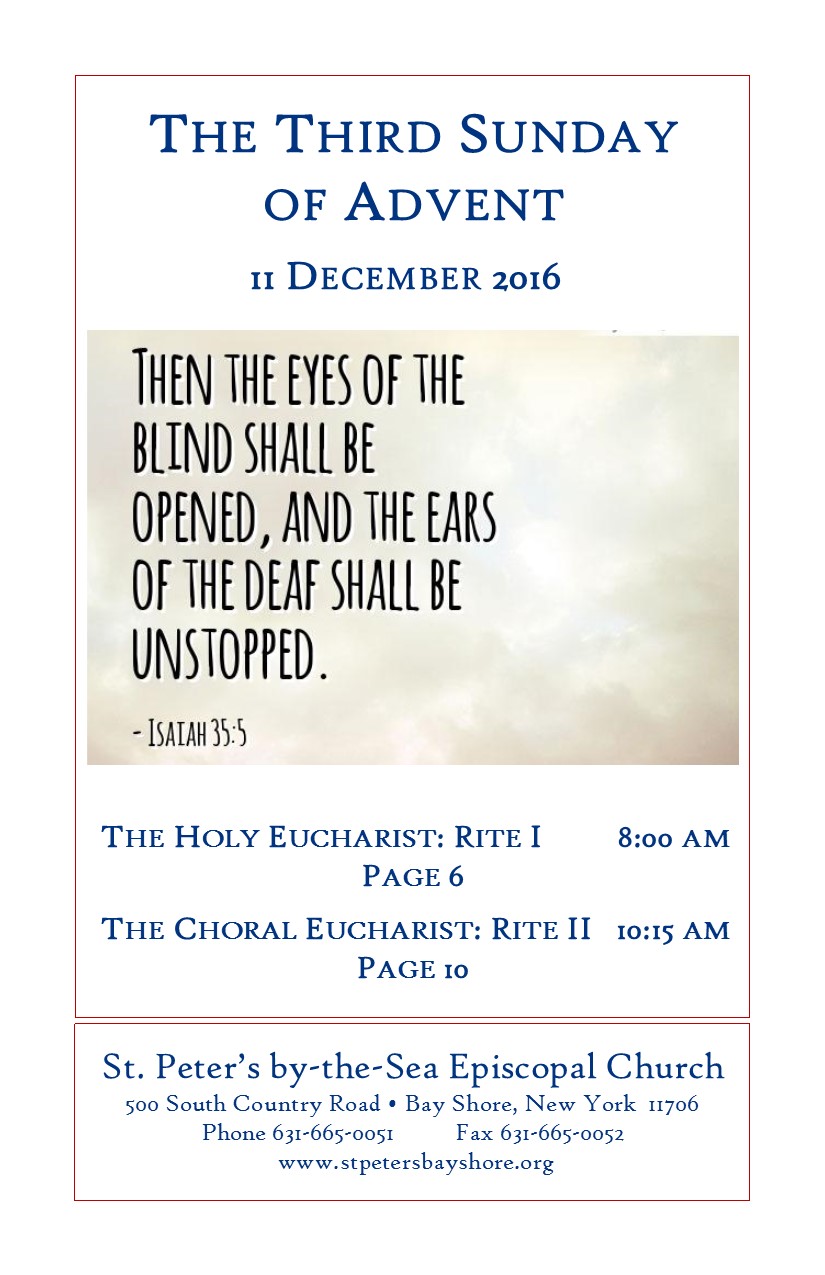 The Right Reverend Johncy Itty
Celebrant and Preacher

Mark Engelhardt, Organist and Director of Music
---
— Parish Notices for the week of 11 December 2016 —
Advent: A Season of watching, waiting, and preparing for the coming of the Lord. The Latin word adventus means coming, but it can also be used for arrival, approach, and appearance, all appropriate for the season. In early Advent we focus on "arrival" - the second coming of Christ. Two Sundays are given to waiting for Christ with John the Baptist, and finally, on the Fourth Sunday, we focus on Christ's first coming as Jesus, the child of Mary. Today, the Third Sunday, is sometimes called "Rejoice" Sunday, from the word Latin word "Gaudete" which is the first word of the Introit on that day. In other traditions, it's called "Stir 'em up" Sunday, from the opening of the Collect for the Day. In any case, we take a "break" from the more penitential atmosphere of Advent, rose-colored vestments are worn, and flowers are used at the altar. At St. Peter's, this day is often also the day of "Greening of the Church." While historically, "Greening" meant decorating the church for Advent, replacing flowers with greens. In many places now, this is a time of preparation for Christmas . . . yet another reminder that Christ is coming . . . in the joyous Festival of Christmas, yes, but in the larger sense, in His Second Coming for which we wait, watch, and prepare.
Immediately following the 10:15 service this morning, the Altar Guild will direct the Greening of the Church. Any who would like to participate in this act of preparation are invited to remain after the service and lend a helping hand!
This Afternoon at 4:00 PM YOUR Parish Choir with Members of the Island Symphony will present Part I of George Frederic Handel's masterpiece "Messiah", concluding of course with the "Hallelujah Chorus." A Festive Reception will follow in the Lounge. Suggested Donation is $20/$15 for students & seniors. FAMILIES OF THREE OR MORE pay only $30 TOTAL, so bring the kids!
— Prayers for the Week —
We pray for those seeking healing: Allan, Ann, Ann, Beryl, Betty, Bill, Bruce, Cathy, Chris, Connie, Daisy, David, Elizabeth, Ellen, Emily, Gary, Gavin, Glenda, Jack, Jackie, Jean, LaJune, Lee, Lisa, Manuel, Meg, Michaela, Nancy, Peggy, Roger, Rosemarie, Sarah Grace, Susan, Susan W.;
We pray for those who have died,
We pray for those in military service, and especially for Eileen, John, Kyle, Robert, and Stephen;
We pray for the unemployed and underemployed; for all who suffer from addictions; for all who suffer chronic illness, and for all caregivers;
We pray for our companion dioceses of Torit & Ecuador-Central; and for mercy, peace, and justice among all peoples, especially those whose lives have been devastated by natural disasters, terrorism, war, famine, tyranny, or injustice;
In the Diocesan Cycle of Prayer we pray for Christ Church, Babylon; St. Peter's, Bay Shore; Christ Church, Bellport; Christ Church, Brentwood; St. Ann's, Bridgehampton; St. James', Brookhaven; St. John the Baptist, Center Moriches;
In the Anglican Cycle of Prayer we pray for the Dioceses of Kericho (Kenya); Khartoum (Northern Sudan); Kibondo (Tanzania); Kibungo, Kigali, and Kigeme (Rawanda); Kigezi (Uganda).
— Upcoming Events —

Sun, 12/11, 11:45am: Greening of the Church
Sun, 12/11, 4 pm: "Messiah" Concert (Choir and Orchestra)
Thurs, 12/15, 11:30am: ECW Luncheon
Sun, 12/18, 4 pm: eVoco Women's Ensemble Concert
Sat, 12/24, 4 pm: Christmas Eve Family Service
Sat, 12/24, 11 pm: Christmas Eve Festival Eucharist
(Carols at 10:30 pm)
Sun, 12/25, 10 am: Christmas Day Eucharist
Sun, 1/1/2017, 10 am: New Year's Day Eucharist
---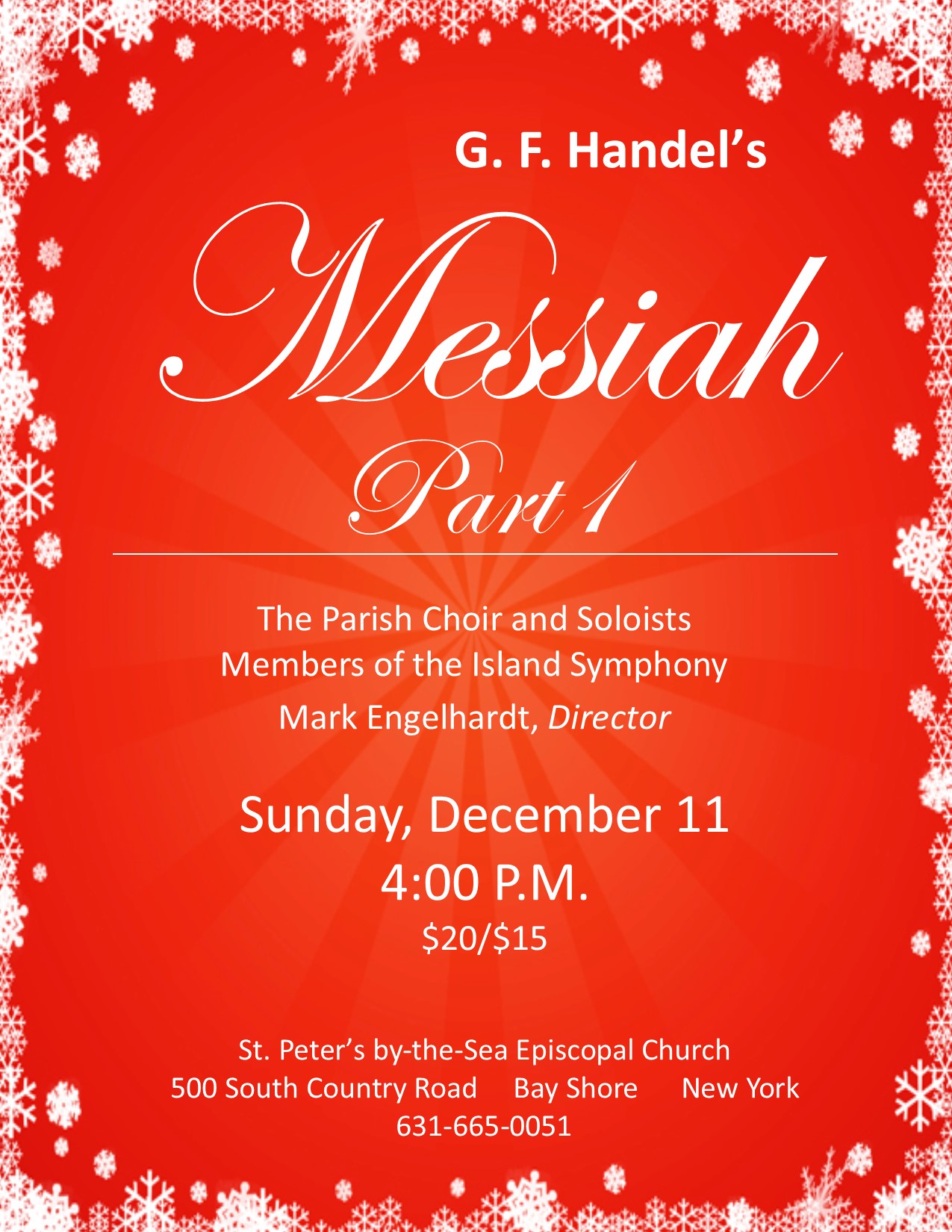 ---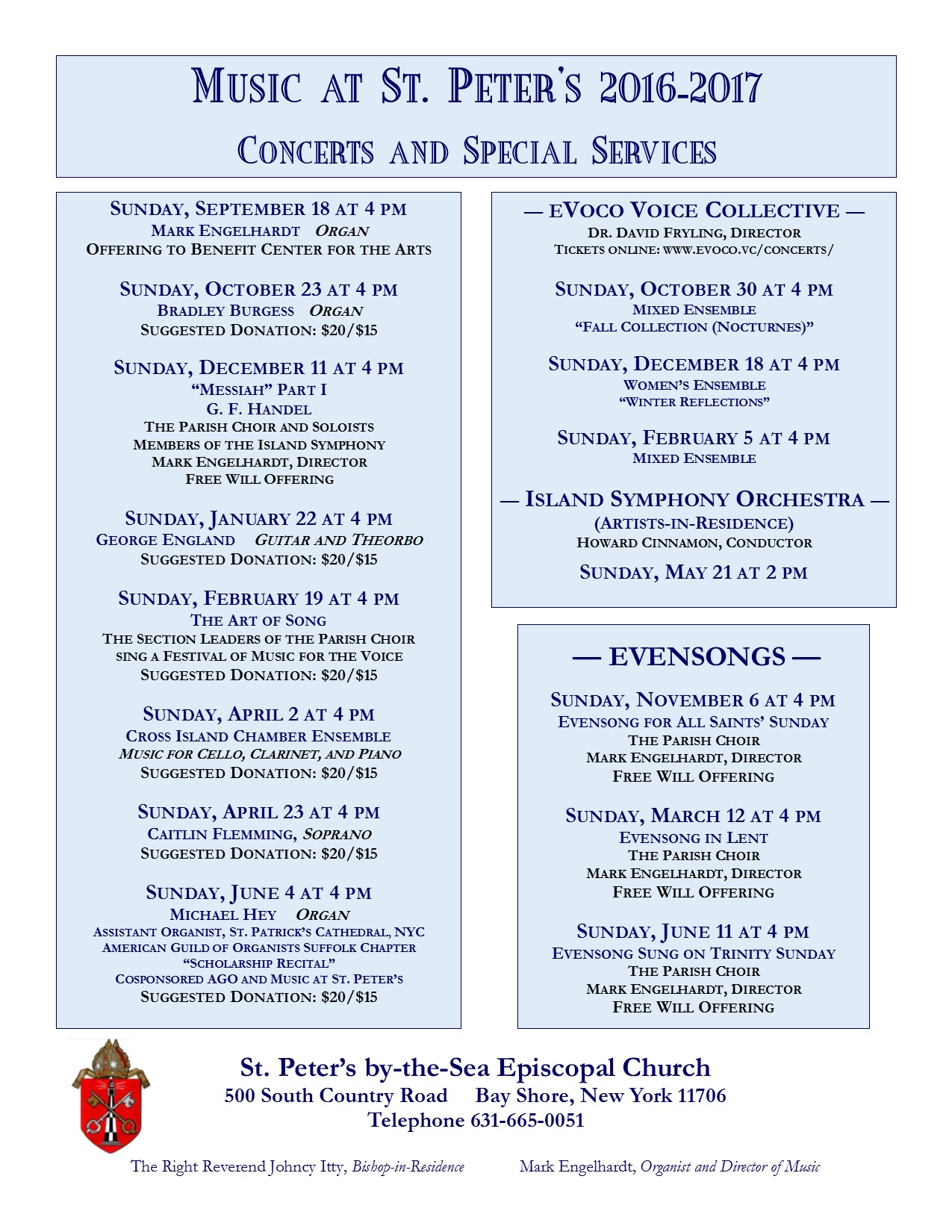 ---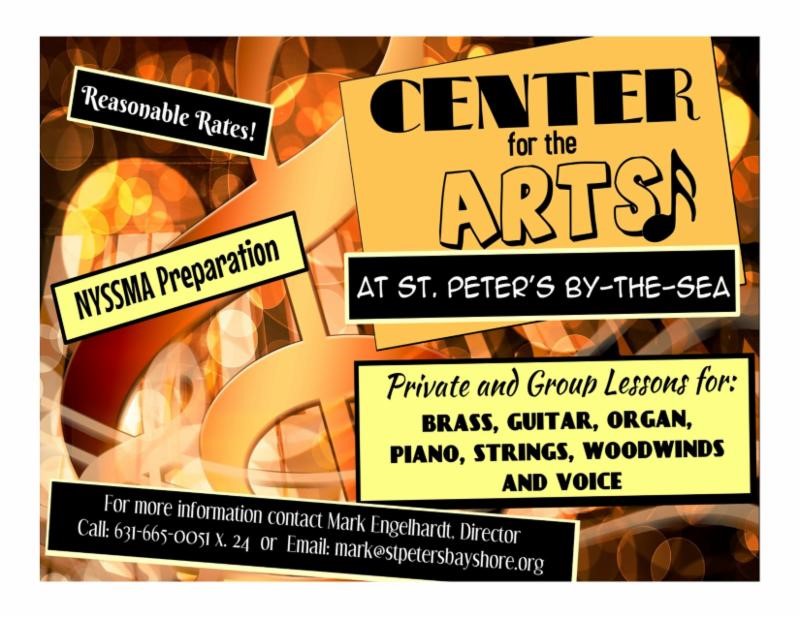 ---
Weekdays:
Morning Prayer is read Monday at 9 am.
Parish Office is open Monday through Thursday 9 am until 2 pm.

A warm welcome will greet you at St. Peter's!
St. Peter's by-the-Sea Episcopal Church
500 South Country Road
Bay Shore, NY 11706
Phone: 631-665-0051
Fax: 631-665-0052
Join us on FACEBOOK

www.facebook.com/StPetersbytheSea
www.facebook.com/StPetersBytheseaEarlyChildhoodLearningCenter
https://www.facebook.com/centerforartstpeters
https://www.facebook.com/stpeterstreblechoir/
AND FOLLOW US ON TWITTER
https://twitter.com/stpetersbaysho1