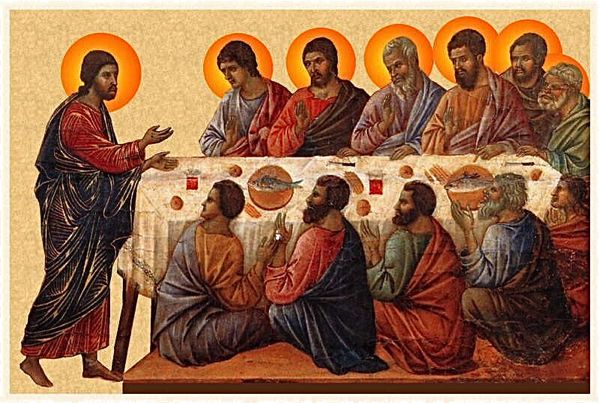 The Third Sunday of Easter
19 April 2015


Click on the links to see the leaflets for each service

8 am in St. Edmund's Chapel

10:15 am in the Church
presents
Bradley Burgess, organist in concert
4:00 pm

Be sure to watch the new video of "Praise through Flowers 2015" on the
Altar Guild Page

---
— Parish Notices For April 19 —
MUSIC AT ST. PETER'S will present Bradley Burgess, organist, in concert TODAY at 4:00 pm. Bradley currently serves as organist and director of music at St. Mark's Church in Islip, and appeared on the concert last season in a solo piano recital. He will be entering the Master of Sacred Music program at the Yale School of Music and Institute of Sacred Music in the fall. Be sure to join us today at 4 pm to hear this brilliant young musician play his first full-length organ recital! (See page 8 for details.)
FROM THE EVANGELISM COMMITTEE: Our next series of witness talks will begin today during the 10:15 AM Eucharist. The theme will be: "THE MOMENT I FELT CLOSEST TO CHRIST" If you have a moment that you would like to share within your faith community here at St Peter's, please consider the opportunity to give a witness. The talk can focus on a moment of piety, a time when you attempted to put Christ's teachings into action, or a moment when you saw Christ at work in the world. The only requirement of the talk is that it be about your experience, that it is your experience of Christ, that it is your testimony. Anyone interested in giving a witness should speak with Roger Burmeister after the 10:15 Sunday Eucharist.
The Farm at St. Peter's is gearing up for a new season. If you would like to join, please pick up a membership form in the narthex, or go to their website and download the pdf form: www.stpetersfarm.com
Third Annual South Shore Episcopalian Bike Ride! We are only a few weeks away from the 3rd Annual South Shore Episcopalian Bike Ride for Fellowship and Fundraising! As customary, we will be raising money for a Habitat for Humanity Build Day. All are welcome! Please see the table in the narthex for registration, FAQ, and sponsorship materials.
"COPING WITH GRIEF ON MOTHER'S DAY" WORKSHOPS –Mother's Day can be a particularly difficult time for someone who has lost a loved one. Please join the Bereavement Specialists of Good Shepherd Hospice for a free workshop offering encouragement, education, coping strategies and support.
The Workshops will be held at Good Shepherd Hospice Administrative Office, 110 Bi-County Blvd., Suite 114, Farmingdale, NY on Thursday May 7, 2015, from 7PM-8:30PM and Good Samaritan Hospital Medical Center, Front Conference Room, Employee Cafeteria, 1000 Montauk Highway, West Islip on Wednesday May 6, 2015 from 6:30PM- 8PM. Seating is limited. Registration is required. Please call (631) 465-6262.
---
---
Did you know that you can now donate online and even use our safe and secure parish website for pledging. Look for "Donate" at www.stpetersbayshore.org. You may also now direct your Thrivent Choice Dollars to St. Peter's: Individuals who participate in the Thrivent financial network and have Choice Dollars can designate these dollars to St. Peter's. To learn more, contact your Thrivent rep or call (800) 847-4836 and mention Choice Dollars.
---
MUSIC AT ST. PETER'S WINTER AND SPRING 2015

¨ Sunday, April 19, 4 pm BRADLEY BURGESS, organist, in Concert $20/$15
¨ Sunday, June 7, 4 pm VESPERS SUNG UPON ASCENSION SUNDAY The Parish Choir sings
Vespers and a Concert of Anthems. (Free Will Offering)

Additional concert at St. Peter's,but not part of the Music at St. Peter's Concert Series
Sunday, May 10: Women's Chorus of eVoco Voice Collective
4:00 pm

---
Weekdays:
Morning Prayer is read Monday and Wednesday at 9 am.

A warm welcome will greet you at St. Peter's!
St. Peter's by-the-Sea Episcopal Church
500 South Country Road
Bay Shore, NY 11706
Phone: 631-665-0051
Fax: 631-665-0052
Join us on FACEBOOK

www.facebook.com/StPetersbytheSea
www.facebook.com/StPetersBytheseaEarlyChildhoodLearningCenter
https://www.facebook.com/centerforartstpeters