Please click the picture below to see the service booklet for Sunday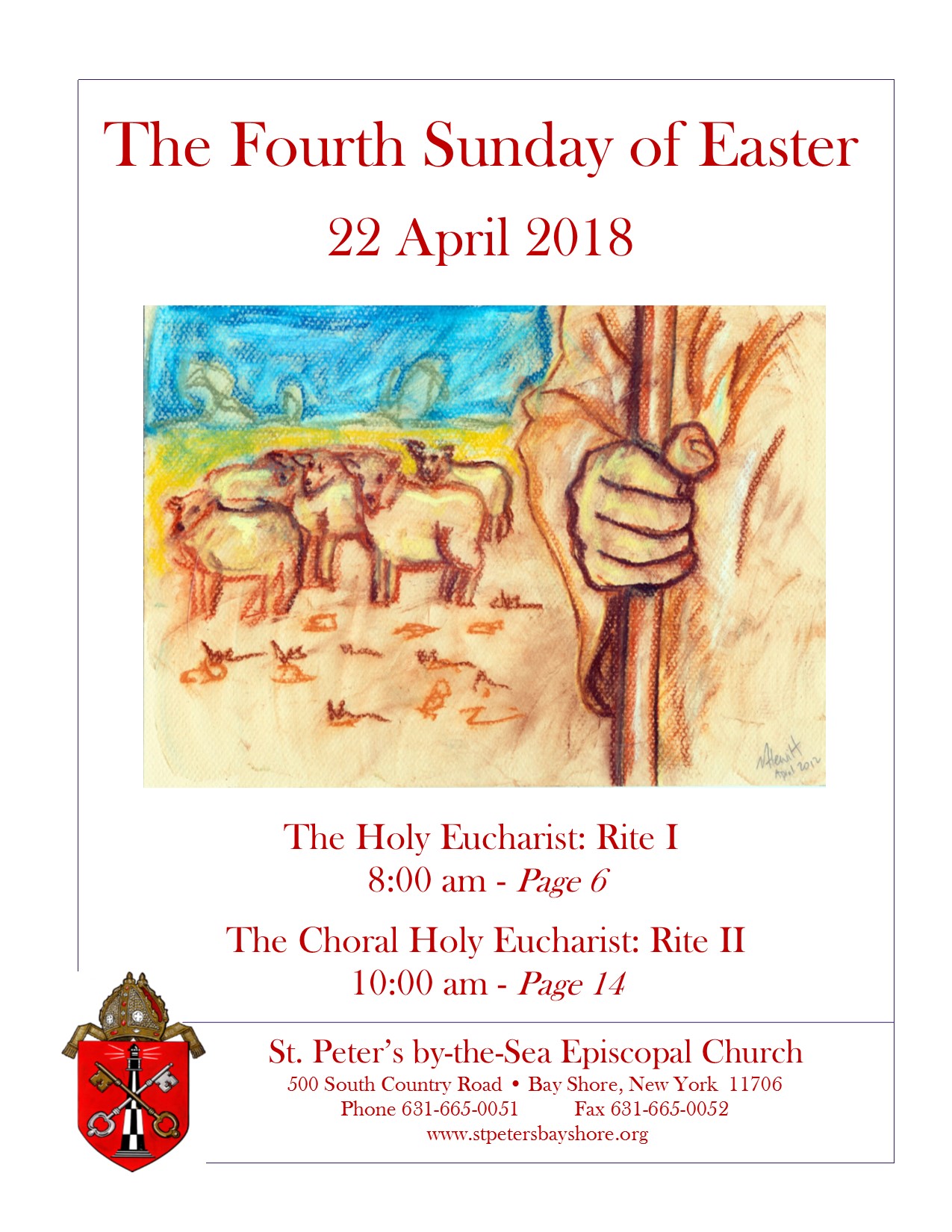 ---
Parish Notices
Bible Study continues on Tuesdays at 10:30 in the Library and Sundays at 9am. All are invited.
The Sixth Annual Episcopalian Bike Ride to raise funds for Habitat for Humanity will be on Saturday, May 5 from 8 am until 1 pm. The route this year will start at Christ Church, Bellport and run to Christ Church in Babylon with a second start at St. Mark's, Islip. Stops this year will include St. Peter's Church. Riders will be able to choose to ride 8, 17, or 25 miles, ending with a delicious and healthy BBQ lunch at Christ Church, Babylon at 1pm. Sign up sheets to participate and to financially support the ride are available in the narthex.
Remaining Spring Season Concerts at St. Peter's: The remaining concerts in the scheduled season "The Art of Song"; Sunday, May 13 featuring our own Staff Singers; the Women's Ensemble of eVoco Voice Collective on Sunday, June 3; and finally on Sunday, June 10, Zachary Schurman, our Organ Scholar will play a full organ recital to conclude his time with us. All of these concerts begin at 4pm and include a reception afterwards to greet the artists. (See page 27 for more details.)
The Food Pantry is in need of serious replenishment. Especially needed are Spaghetti Sauces (Ragu, etc.), Spaghettios; Cereal, Tuna Fish, and Oatmeal. We are not in need of canned vegetables at this time.
DON'T FORGET: The Parish Auction has been cancelled but we will have an outdoor Yard Sale on Saturday, June 9 from 9 to 3pm. Items you would like to donate are welcome between the hours of 10am and 2pm on Saturdays. Please do not leave items in front of the church over night!
St. Peter's Farm is ready to Open for the season! 20'x20' plots are available at this time for you to till and plant -- Organic Farming Only! We supply water and the use of tools, but you are responsible for the care and harvesting of your crops. Hours of operation are 7 am until dusk. Please see Sal for information.
Have You Taken Control of Your Health Today?
Life Line Screening will be at St Peters by the Sea Episcopal Church on Tuesday, May 1, 2018 offering five safe, painless, non-invasive preventive health screenings that are typically not a part of a routine physical. Appointments are limited, so please sign up now by calling 1-800-640-6307 and receive a $10 discount off the package or text the word circle to 797979 or visit Life Line Screening's website at www.lifelinescreening.com/communitycircle
Complete Wellness Package which includes 4 vascular tests and osteoporosis screening for $149 ($139 with the special Facebook discount). Speak with the LLSA representative for more package options. All five screenings take 60-90 minutes to complete.
There is no time like the present to take action!
---
St. Peter's by-the-Sea: A Glimpse Ahead
MAY
Tuesday, May 1 - Lifeline Testing - 9am - 5pm
Friday, may 4 - AGO Organ Scholarship Auditions - 2 - 7pm
Saturday, May 5 - The Sixth Annual Episcopalian Bike Ride
Saturday, May 5 - Julia O'Malley funeral - 11am
Sunday, may 13 - Music at st. peter's - the art of song: 4th annual staff singers concert - 4pm
Thursday, may 17 - ECW Luncheon and Meeting - 11:30 am
JUNE
Sunday, June 3 - Music at St. Peter's - eVoco Voice Collective Women's Ensemble - 4pm
Saturday, June 9 - St. Peter's Yard Sale
Sunday, June 10 - Music at St. Peter's - Zachary Schurman, Organ Scholar in Concert - 4pm
---
Weekdays:


Bible Study: Tuesdays at 10:30 am

Parish Office is open Monday through Thursday 9:30 am until 2 pm.

A warm welcome will greet you at St. Peter's!
St. Peter's by-the-Sea Episcopal Church
500 South Country Road
Bay Shore, NY 11706
Phone: 631-665-0051
Fax: 631-665-0052
Join us on FACEBOOK

www.facebook.com/StPetersbytheSea
www.facebook.com/StPetersBytheseaEarlyChildhoodLearningCenter
https://www.facebook.com/centerforartstpeters
https://www.facebook.com/stpeterstreblechoir/
AND FOLLOW US ON TWITTER
https://twitter.com/stpetersbaysho1