October 30, 2016
Click the picture below to see the leaflet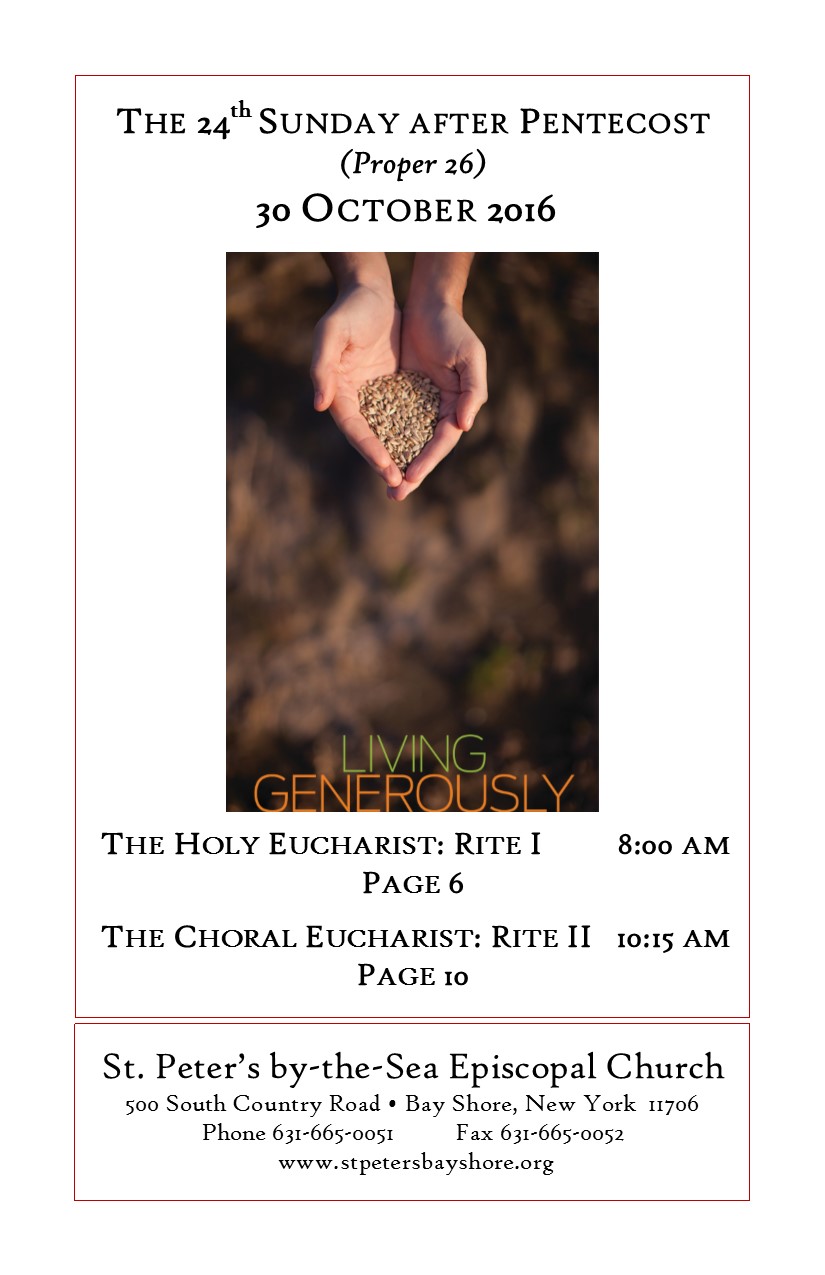 The Right Reverend Johncy Itty
Celebrant and Preacher

Mark Engelhardt, Organist and Director of Music
---
— Parish Notices for the week of 30 October 2016 —
Top Ten Reasons Why We Sing Hymns in Church: While the English word "common" has many definitions, some of them quite negative, in "church language" it takes on the connotation of mutual participation, sharing, being in communion with others. Singing the sacred texts and tunes of the songs of faith in worship enhances our experience of being in community. This is why in our Anglican tradition, the song of the people has always been sung by the entire worshipping body, not by a soloist or cantor as used in some other traditions. As our Prayer Book is the "Book of Common Prayer", one could say the same of our Hymnal, and be just right! Next: Social Conscience.
Living Generously: This year's stewardship theme is a strong call to action to each of us as followers of Jesus. He showed us the way to live generously: by welcoming the outcast, by overturning the tables of the money changers in the temple, by dining with the poor and healing the sick, by teaching, by forgiving, and by ultimately giving his life so that all might have life abundant. November 13 is Stewardship Sunday.
Today is united thank offering Sunday: An envelope is enclosed with this leaflet for your UTO check. Please put "UTO" on the memo line along with your envelope number. If you do not have a Blue Box, extras are available in the narthex. The United Thank Offering is a spiritual and financial partner in the mission work of the Episcopal Church. UTO PRAYER: Heavenly Father, source of all creation, all love, all true joy, accept, we pray, these outward signs of our profound and continuing thankfulness for all of life. Bless those who will benefit from these gifts through the outreach of the United Thank Offering; and keep each of us ever thankful for all the blessings of joy and challenge that come our way; through him who is the greatest gift and blessing of all, Jesus Christ our Lord and Savior. Amen.
The children of our Sunday School have been working on an exciting project to assist other children in need in our community. We will be assembling "treat bags" for children in a local family shelter. If any members of the congregation would like to donate items to go in our "treat bags" OR donate recycled costumes, please feel free to drop them off in any of our 3 classrooms by 10:15 today.
eVoco Voice Collective Mixed Ensemble will sing their "Fall Collection" program this afternoon at 4:00 pm. Tickets at the door are $25/$15. See page 15 for details.
Evensong on All Saints' Sunday: Next Sunday at 4 pm, the Parish Choir will sing Evensong on All Saints' Sunday. A reception will follow the service. All are invited! See page 5 for details.
Saturday, November 12th, 9-10 am. Welcoming all who knit, crochet, or sew, or those who want to learn! A new group is forming at St. Peter's! As an offshoot of Episcopal Church Women (ECW), we will make items for charities from our church and meet on the 2nd Saturday of each month in the lounge at 9 am for just an hour to work on projects and put together ideas. We will also have a light breakfast with coffee, tea, and juice and welcome anyone visiting or working in the church that morning to stop by and get a breakfast! See Angie Morris for more details or call her at 631-424-8588.
St. Peter's Annual Christmas Ornament Workshop!!
Sunday, November 20th- immediately following our 10:15 a.m. service. All children are invited – of all ages! All parents are invited as well! Bring your artistic talents – and create Christmas Ornaments to hang from our Angel Tree – each ornament will have the name of a child in need. "One-child-helping-another" – a wonderful St. Peter's Message for Christmas 2016! Parents – please feel free to donate arts and crafts supplies. Refreshments will be served! For info: call Kathy Malloy @ 631-626-0812.
Food Pantry Needs: Tomato sauce and gravy (Ragu), Soups, Macaroni and Cheese, Cereal. Soap and Shampoo would also be welcome!
— Prayers for the Week —
We pray for those seeking healing: Allan, Ann, Ann, Beryl, Betty, Bill, Bruce, Cathy, Chris, Christine, Connie, David, Elizabeth, Ellen, Emily, Gary, Jack, Jean, LaJune, Lisa, Manuel, Meg, Michaela, Nancy, Peggy, Roger, Rosemarie, Sarah Grace, Susan, Susan W.;
We pray for those who have died,
We pray for those in military service, and especially for Eileen, John, Kyle, Robert, and Stephen;
We pray for the unemployed and underemployed; for all who suffer from addictions; for all who suffer chronic illness, and for all caregivers;
We pray for our companion dioceses of Torit & Ecuador-Central; and for mercy, peace, and justice among all peoples, especially those whose lives have been devastated by terrorism, war, famine, tyranny, or injustice;
In the Diocesan Cycle of Prayer we pray for St. Paul's, Glen Cove; All Saints', Great Neck; Retired Bishops and Retired Bishops Suffragan; Bushwick Abbey, Brooklyn; St. George's, Hempstead; Rural Migrant Ministries; Trinity-St. John's, Hewlett;
In the Anglican Cycle of Prayer we pray for the Anglican Church in Bermuda; and the Dioceses of Ilesa, Ilesa South West (Nigeria); Indianapolis, Iowa (USA); Iran (Jerusalem & Middle East); Irele, Isikwuato (Nigeria).
— Upcoming Events —
Sun, 10/30, 4 pm: eVoco Mixed Ensemble Concert
Sun, 11/6, 10:15 am: Festival Service with Baptism for All Saints
Sun, 11/6, 4 pm: Choral Evensong for All Saints' Sunday
Thurs, 11/17, 11:30 am: ECW Luncheon
Sat, 11/12, 7 pm: Concert for Flute and Voice
Sat, 12/3, 9am - 5 pm: Christmas Fair
Sun, 12/11, 4 pm: "Messiah" Concert (Choir and Orchestra)
Sun, 12/18, Noon—Sandwich Program Luncheon
Sun, 12/18, 4 pm: eVoco Women's Ensemble Concert
Sat, 12/24, 4 pm: Christmas Eve Family Service
Sat, 12/24, 11 pm: Christmas Eve Festival Eucharist
(Carols at 10:30 pm)
Sun, 12/25, 10 am: Christmas Day Eucharist
Sun, 1/1/2017, 10 am: New Year's Day Eucharist
---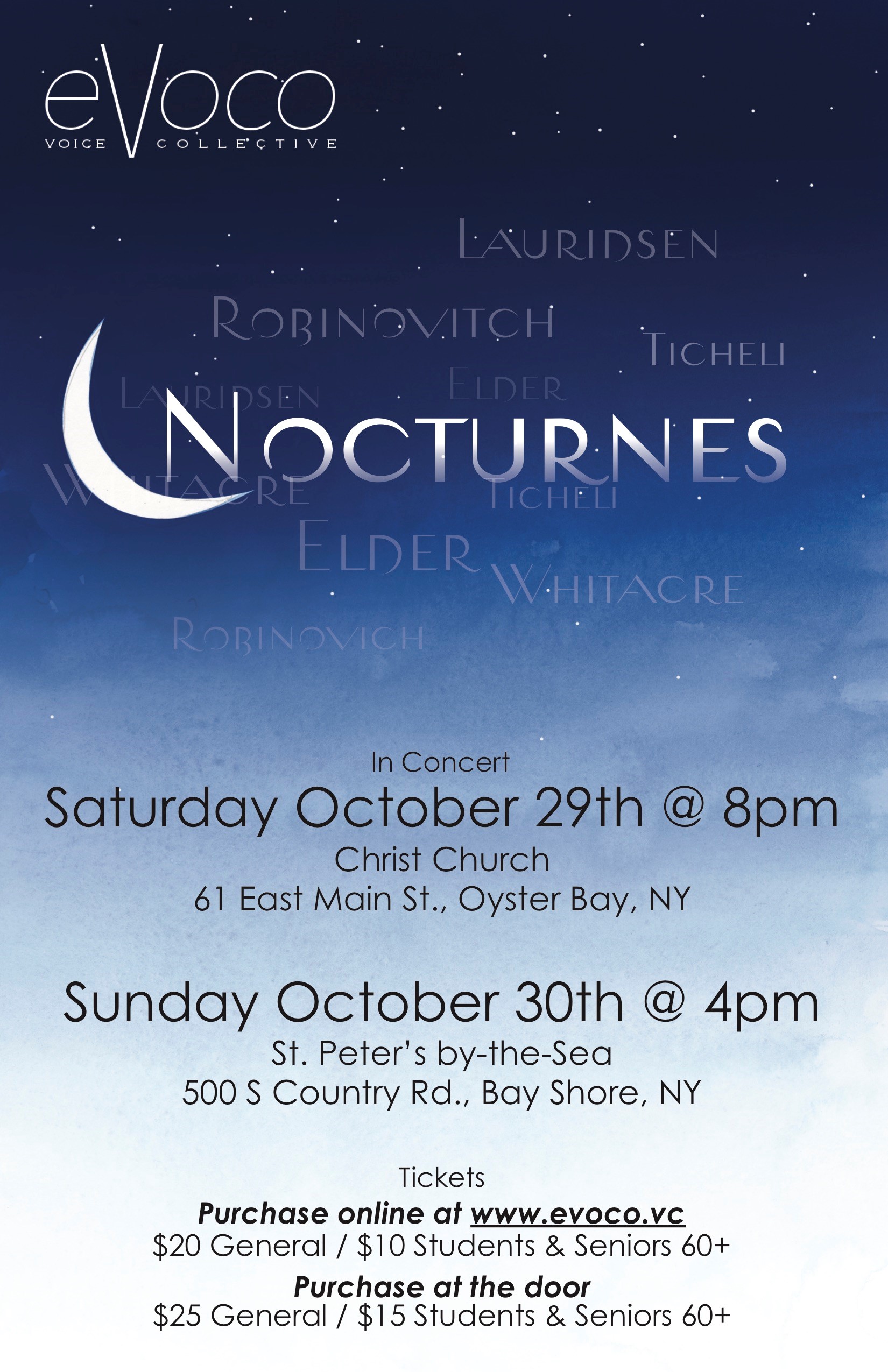 ---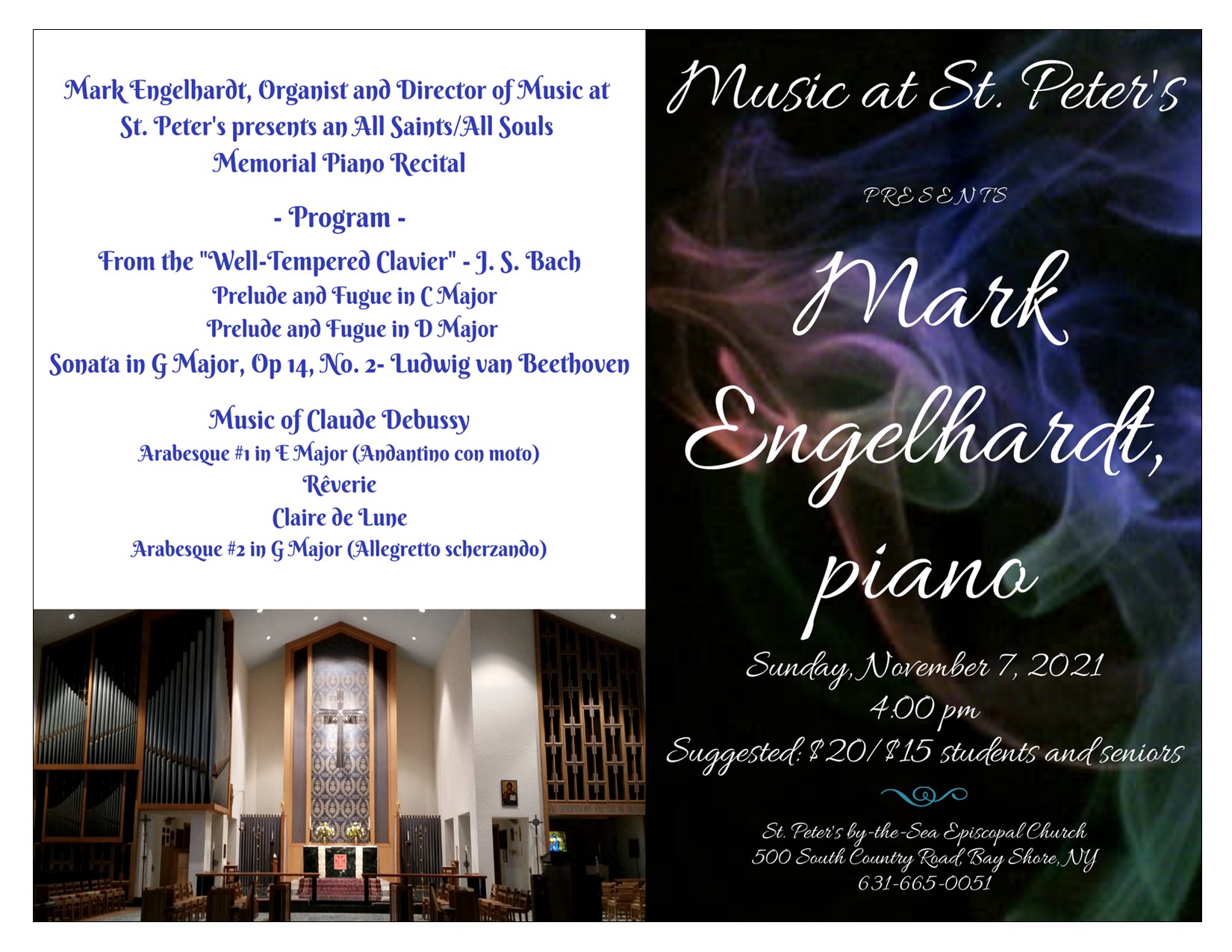 ---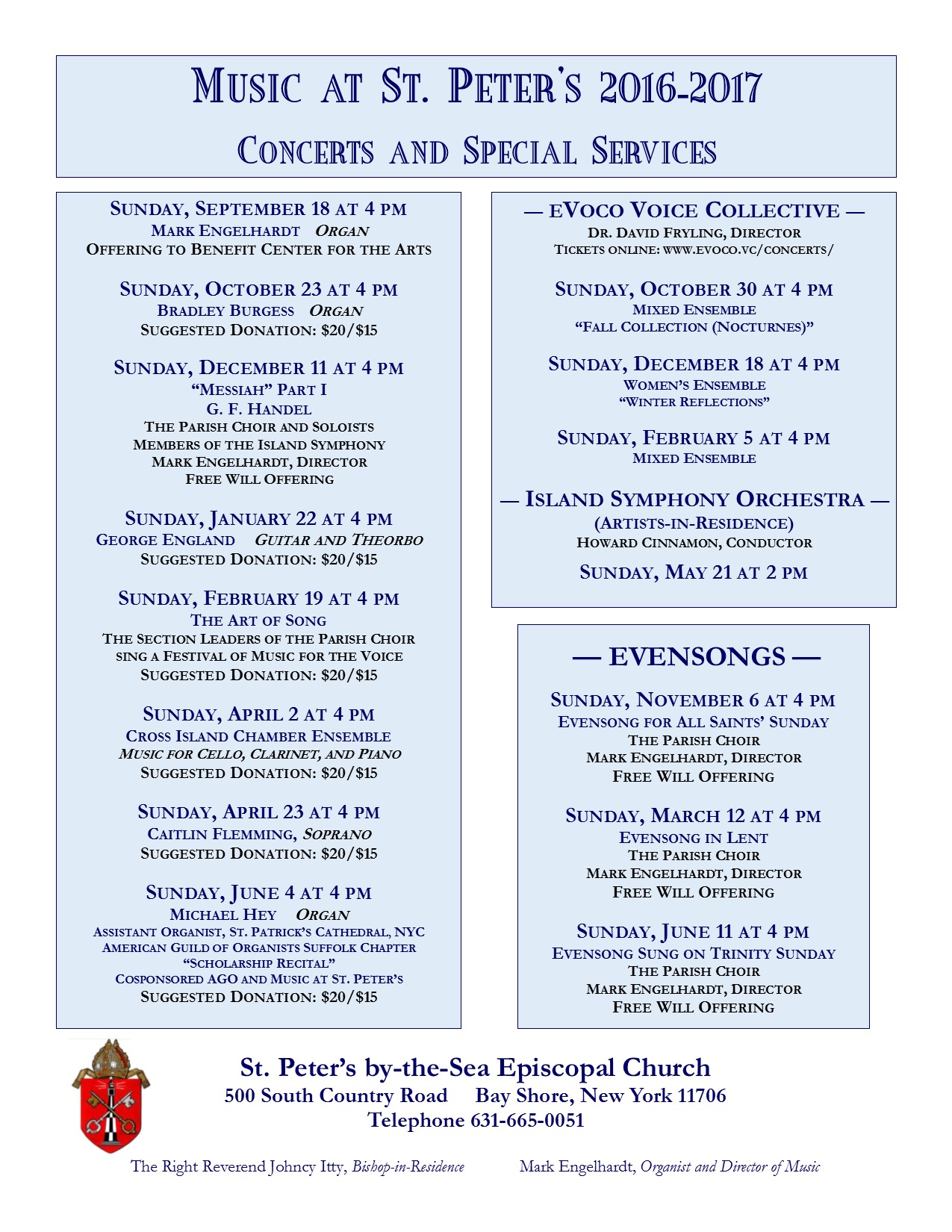 ---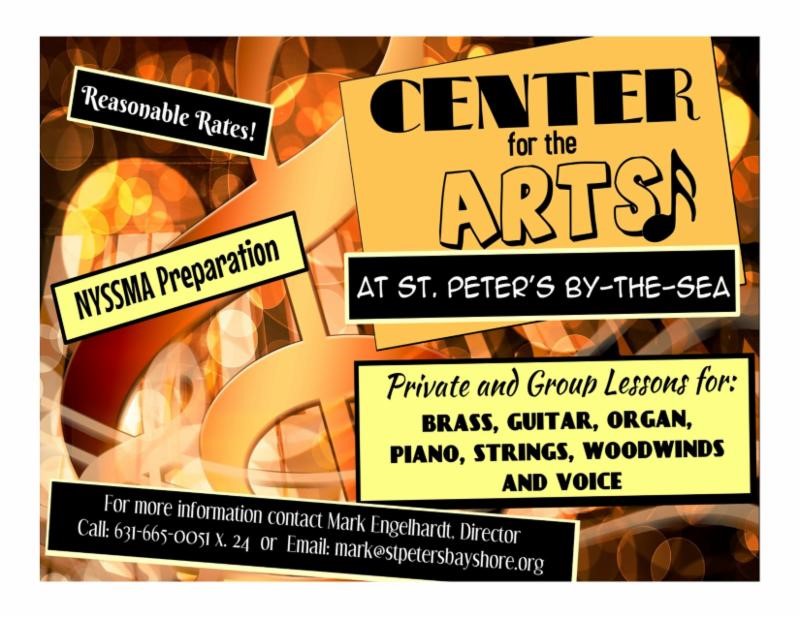 ---
Weekdays:
Morning Prayer is read Monday at 9 am.
Parish Office is open Monday through Thursday 9 am until 2 pm.

A warm welcome will greet you at St. Peter's!
St. Peter's by-the-Sea Episcopal Church
500 South Country Road
Bay Shore, NY 11706
Phone: 631-665-0051
Fax: 631-665-0052
Join us on FACEBOOK

www.facebook.com/StPetersbytheSea
www.facebook.com/StPetersBytheseaEarlyChildhoodLearningCenter
https://www.facebook.com/centerforartstpeters
https://www.facebook.com/stpeterstreblechoir/
AND FOLLOW US ON TWITTER
https://twitter.com/stpetersbaysho1