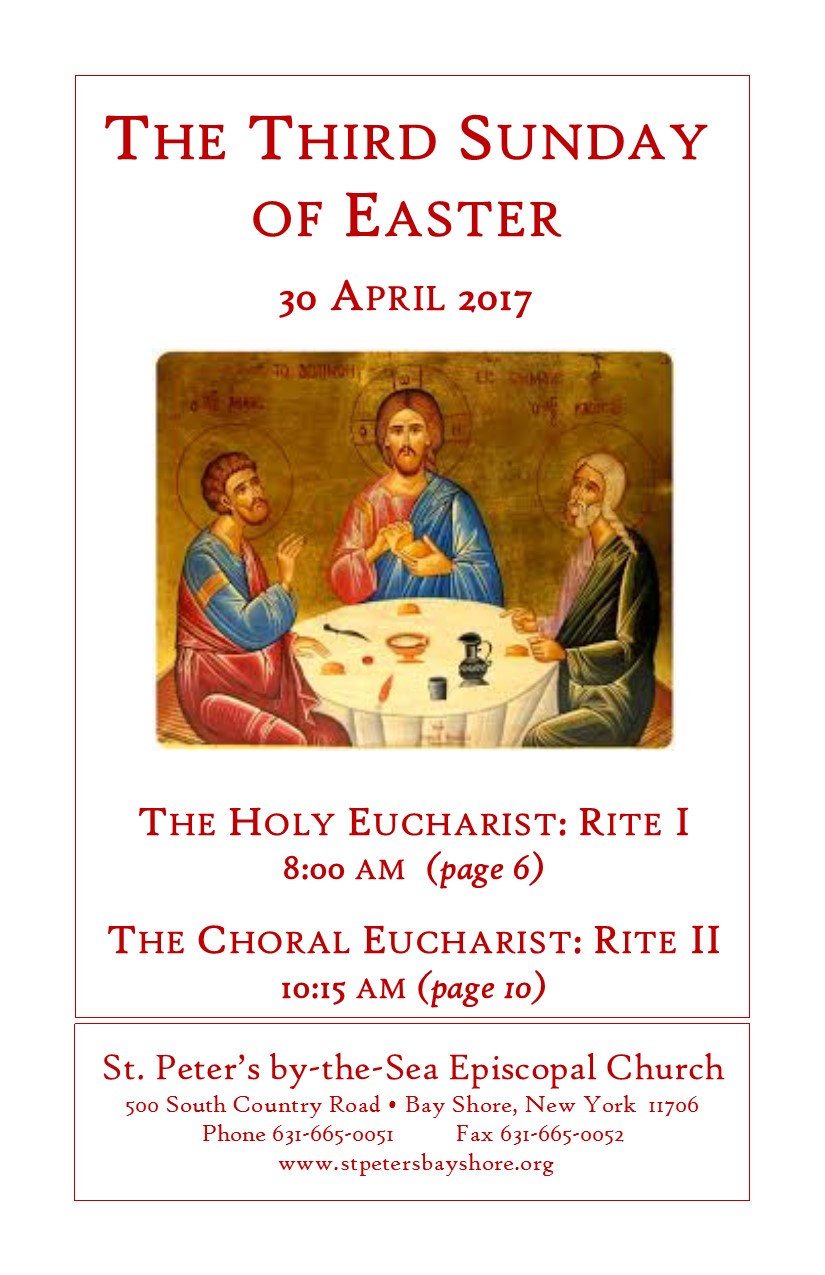 The Third
Sunday

of

Easter

The Holy Eucharist: Rite I

8:00 am
St. Edmund's Chapel
The Choral Holy Eucharist: Rite II

10:15 am
Church

Click the picture to see the leaflet
The Right Reverend Johncy Itty
Celebrant and Preacher

Mark Engelhardt, Organist and Director of Music
---
— Parish Notices for the Week of 4/30/17 —
Preschool Art Show! Today from 11:45 - 12:45 in the Parish Hall. Come in for Coffee Hour and see the handiwork of our Preschool Children.

There are two opportunities for Bible Study each week: Sundays between services and Tuesdays at 10:30! All are welcome!

Notes from the Music Corner:
¨ Island Symphony Orchestra, our ensemble-in-residence, will play a concert here at St. Peter's on Sunday, May 21 at 2:00 pm in the Parish Hall. Admission to this concert, featuring music of Bizet, Dvorak, and Tchaikovsky, is free, and all are invited.
¨ We will host The Suffolk Chapter of the American Guild of Organists' annual Organ Scholarship Competition on May 5.
¨ Two Remaining Offerings in this Season's Concerts:
Cosponsoring with Suffolk Chapter AGO,

we will host the Annual Scholarship Concert on Sunday, June 4 at 4 pm. This year's artist will be Michael Hay, Assistant Organist at St. Patrick's Cathedral, NYC. All are invited. Offering: $20/$15 AGO and Seniors

The final concert of the Music at St. Peter's season

will be on Sunday, June 11 at 4 pm. This Festival Choral Concert will feature our own Parish Choir and Soloists with guest organist Manuel Zacarias. For details, see page 5 of the leaflet. You won't want to miss this special occasion!
Ten of our Parishioners will be Confirmed at the Cathedral in May. Carter Alves, Tyler Cassara, Zoe Feigel, Amanda Gebler, Lauren and Sarah Koepke, Willie Logan, and Jennie, Nathan, and Jarrett Nagengast have attended classes this year mentored by Mark Engelhardt. Amanda will be confirmed on May 13, and the others on May 6. The ECW will host a special reception for all the confirmands after church on May 7.

There are only a few spots left at the farm. Speak with Sal right away to reserve a plot of 20'x20' from April through October for a donation of $100.
---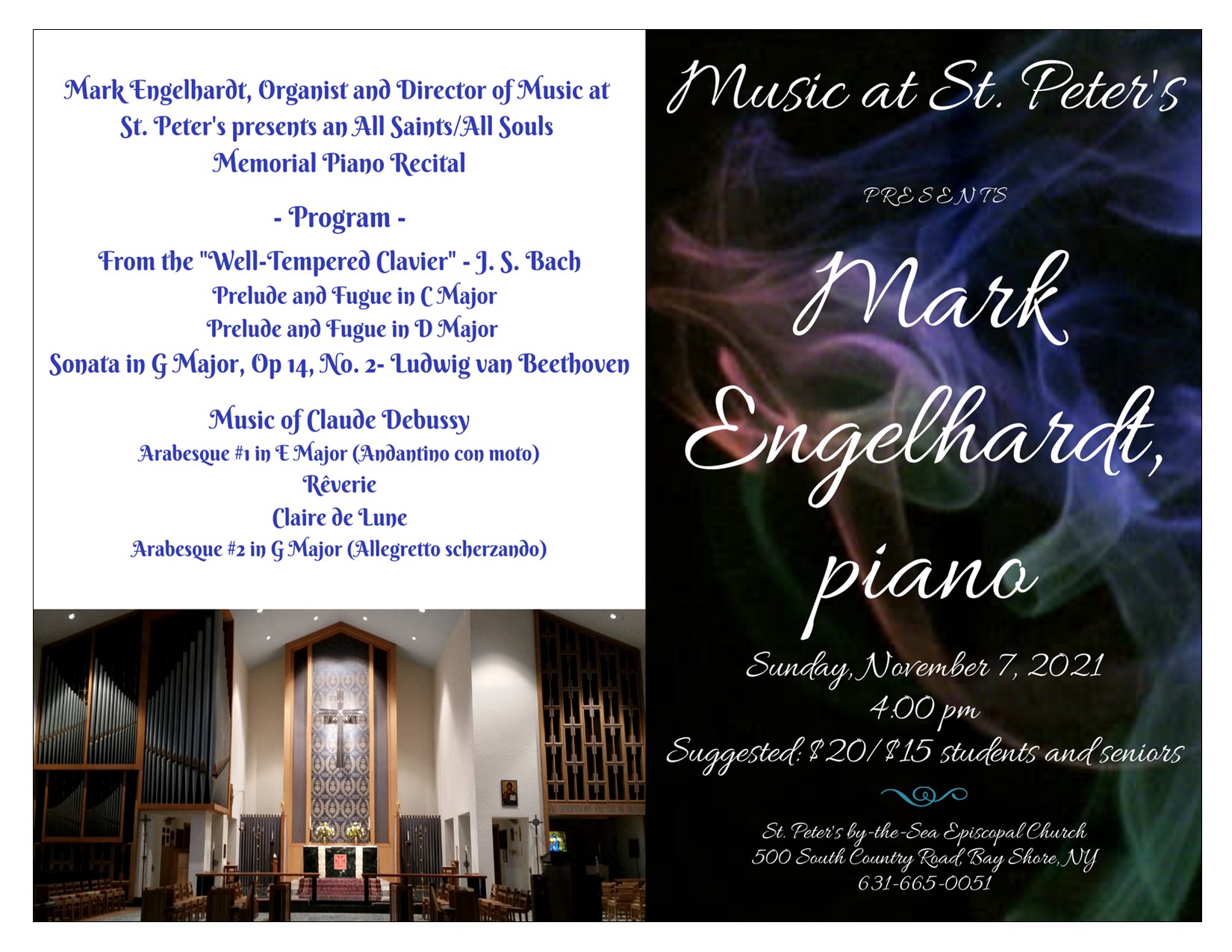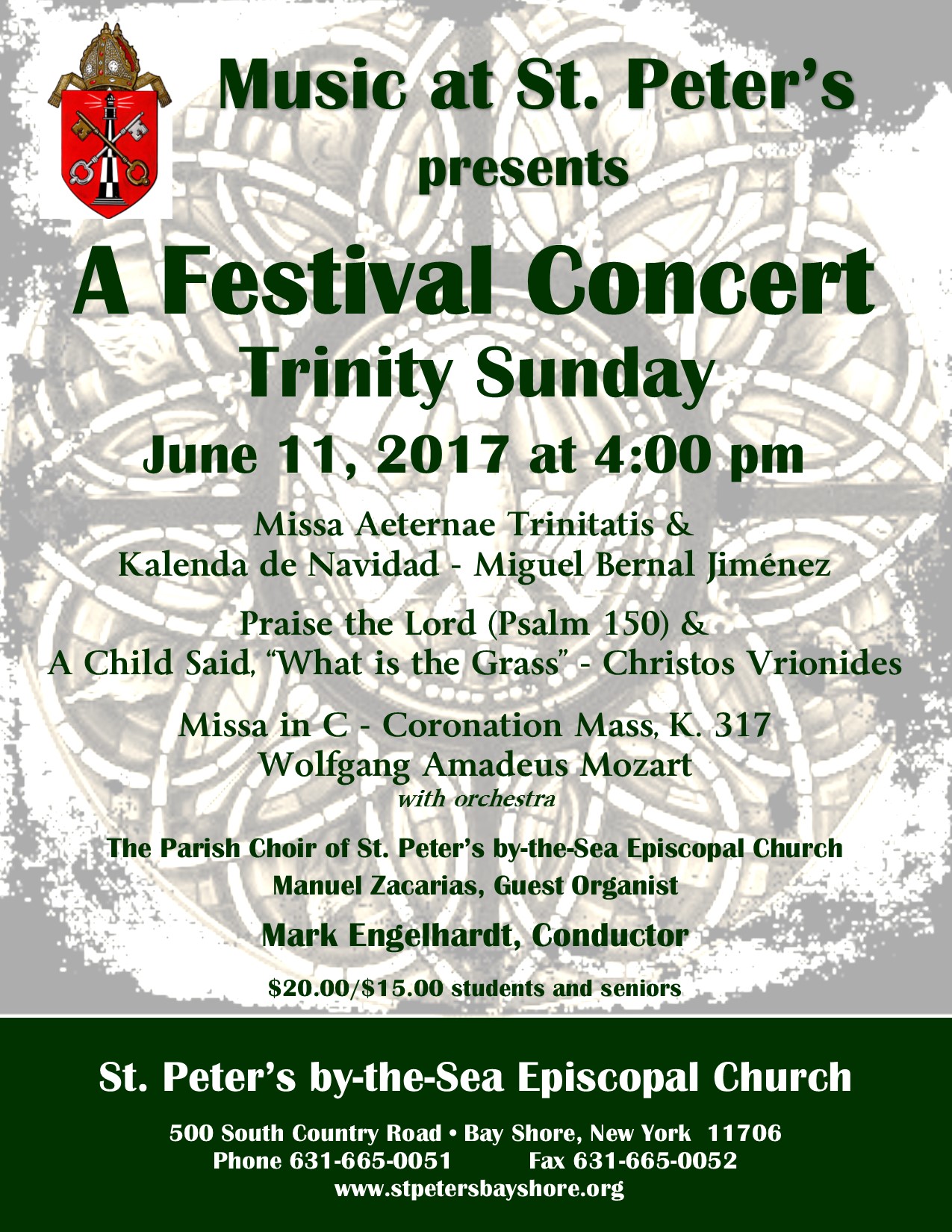 ---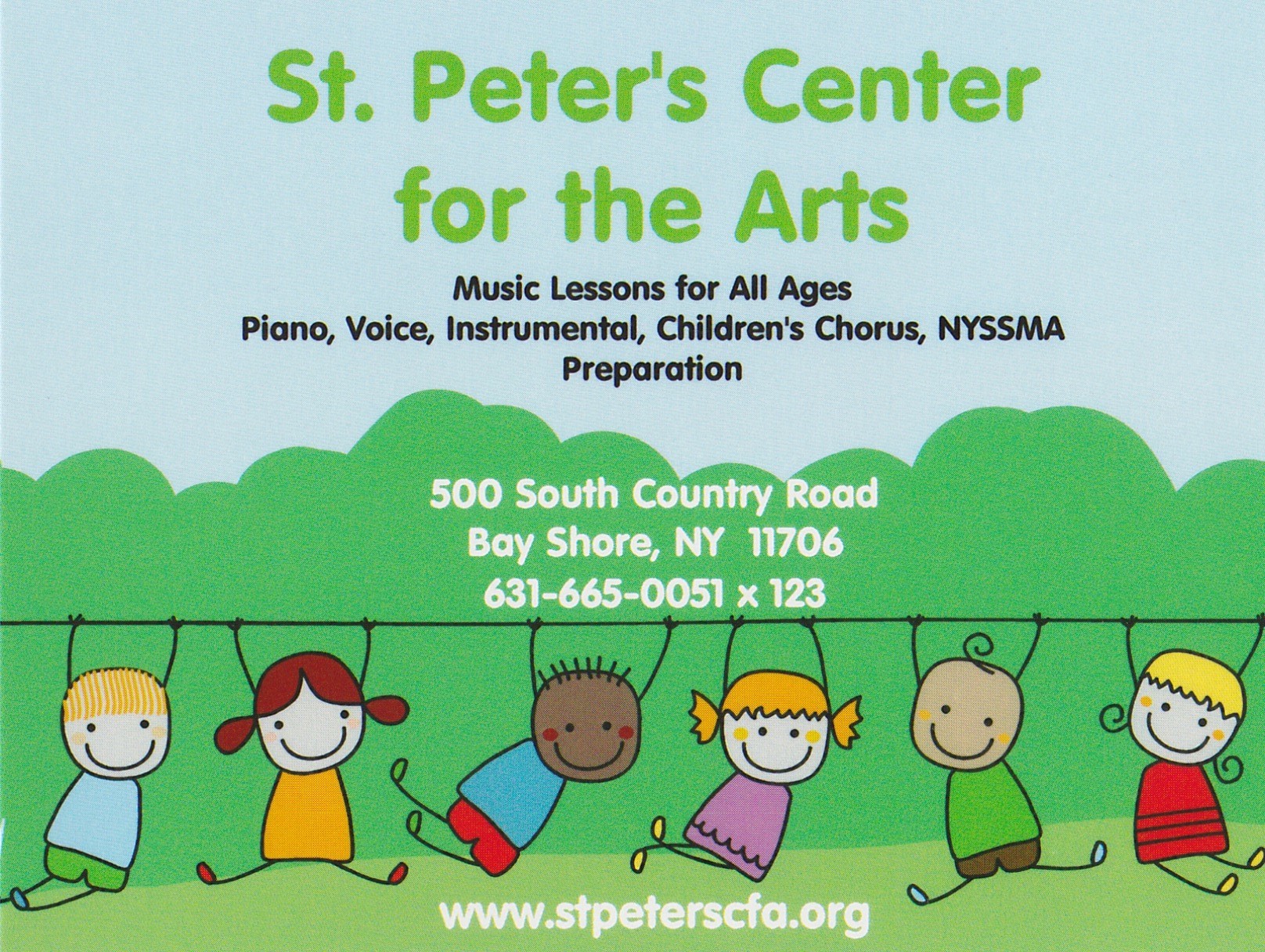 ---
Weekdays:


Bible Study: Tuesdays at 10:30 am

Parish Office is open Monday through Thursday 9:30 am until 2 pm.

A warm welcome will greet you at St. Peter's!
St. Peter's by-the-Sea Episcopal Church
500 South Country Road
Bay Shore, NY 11706
Phone: 631-665-0051
Fax: 631-665-0052
Join us on FACEBOOK

www.facebook.com/StPetersbytheSea
www.facebook.com/StPetersBytheseaEarlyChildhoodLearningCenter
https://www.facebook.com/centerforartstpeters
https://www.facebook.com/stpeterstreblechoir/
AND FOLLOW US ON TWITTER
https://twitter.com/stpetersbaysho1