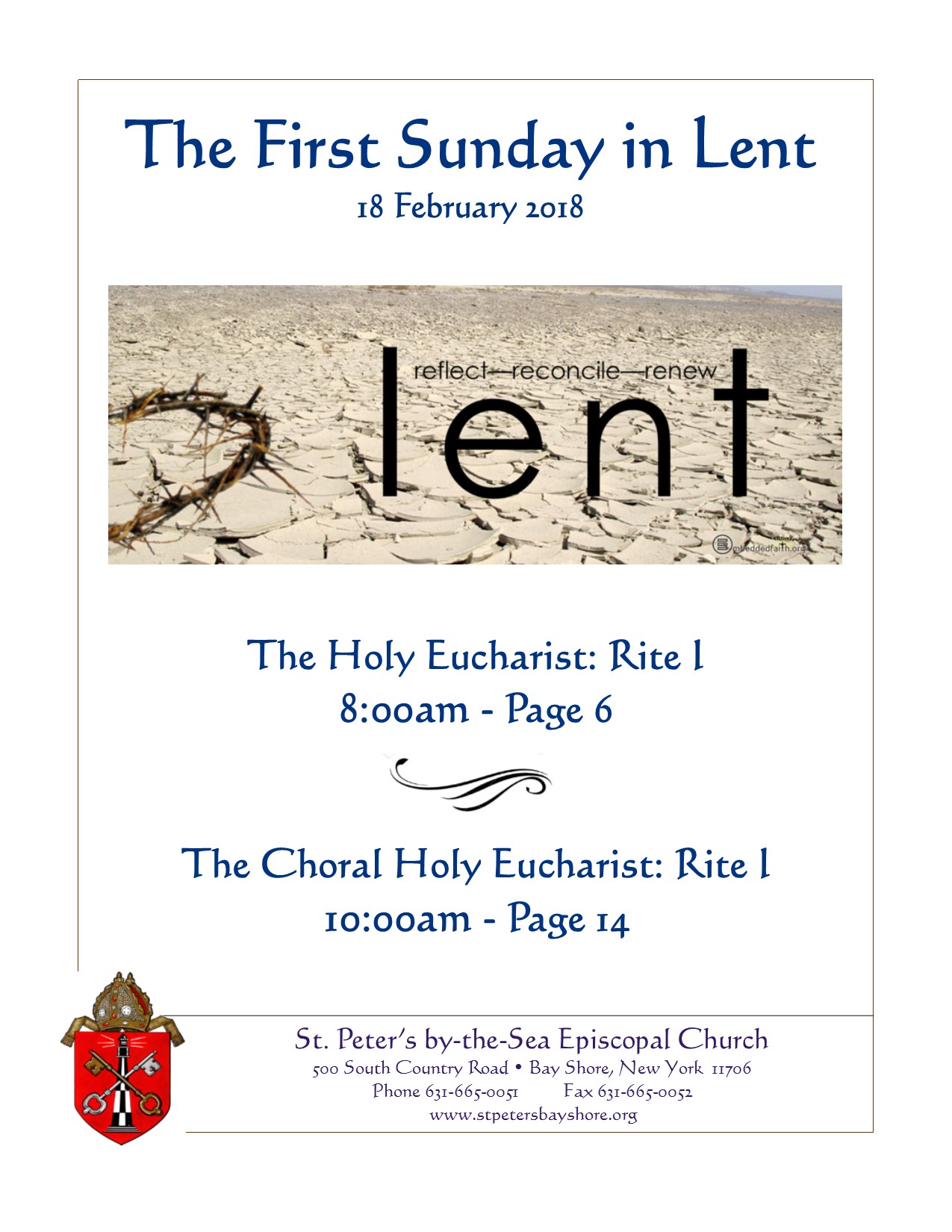 — Parish Notices —
What do we do on Sunday morning? Mainline churches such as Lutheran, Methodist, Episcopal, Congregational, have experienced steady decline in attendance for the past several decades. Many contributing factors figure into the equation when trying to understand this phenomenon . . . increasing pressures of daily life requiring families to "take a day off", sports activities on Sundays, the secularization of society . . . are often cited. The reasons are endless and close examination leads to church communities striving to become "what the people want.." Our own Episcopal church, one of the churches of the world-wide Anglican community, has certainly been wrestling with this for years, yet no clear solutions have arisen and pews, once filled, are now empty on Sunday morning. So, what do we do on Sunday morning that makes it worth our continuing to do it?
We gather on Sunday to worship God. Pure and simple, and what could be a more worthy reason? The bonus is that we experience the joy of coming together as a church family, learning about God and our faith in Bible study and Sunday School; working together to enhance worship as members of the choir, acolytes, lectors, layreaders, ushers, altar guild.
During Lent this year, we will look at our Anglican heritage and tradition to try to gain a greater appreciation for what WE do on Sunday morning and why. As Episcopalians, we benefit from the rich centuries-old Anglican tradition of worship.
This morning, the First Sunday of Lent, we begin services with the Great Litany, one of the liturgical masterpieces of the English Church; and at the 10am service, we will hear the Service Music in F Major by Herbert Sumsion sung by the choir.
Music at St. Peter's will present Christopher Reames, tenor, in a full Vocal Recital with pianist Marek Rachelski, Today, February 18, 4pm.
With deepest sympathy, we announce the death of long-time parishioner Jack Gandrey. The Service of Thanksgiving for his life will be at St. Peter's tomorrow morning at 10:30am, and visiting hours at Chapey's funeral home, West Islip, are today from 2-4pm and 7-9pm.
ST. PETER'S PARISH AUCTION is scheduled for May 5! Auction-worthy items are now being received! Please speak with Sal if you have donations that you would like to make to our fund-raising Parish Auction.
Bible Study continues on Tuesdays at 10:30 in the Library and Sundays at 9am. All are invited. The Study is continuing with discussion of the Paul's Letter to the Romans and the Old Testament Book of Proverbs. All are invited!
---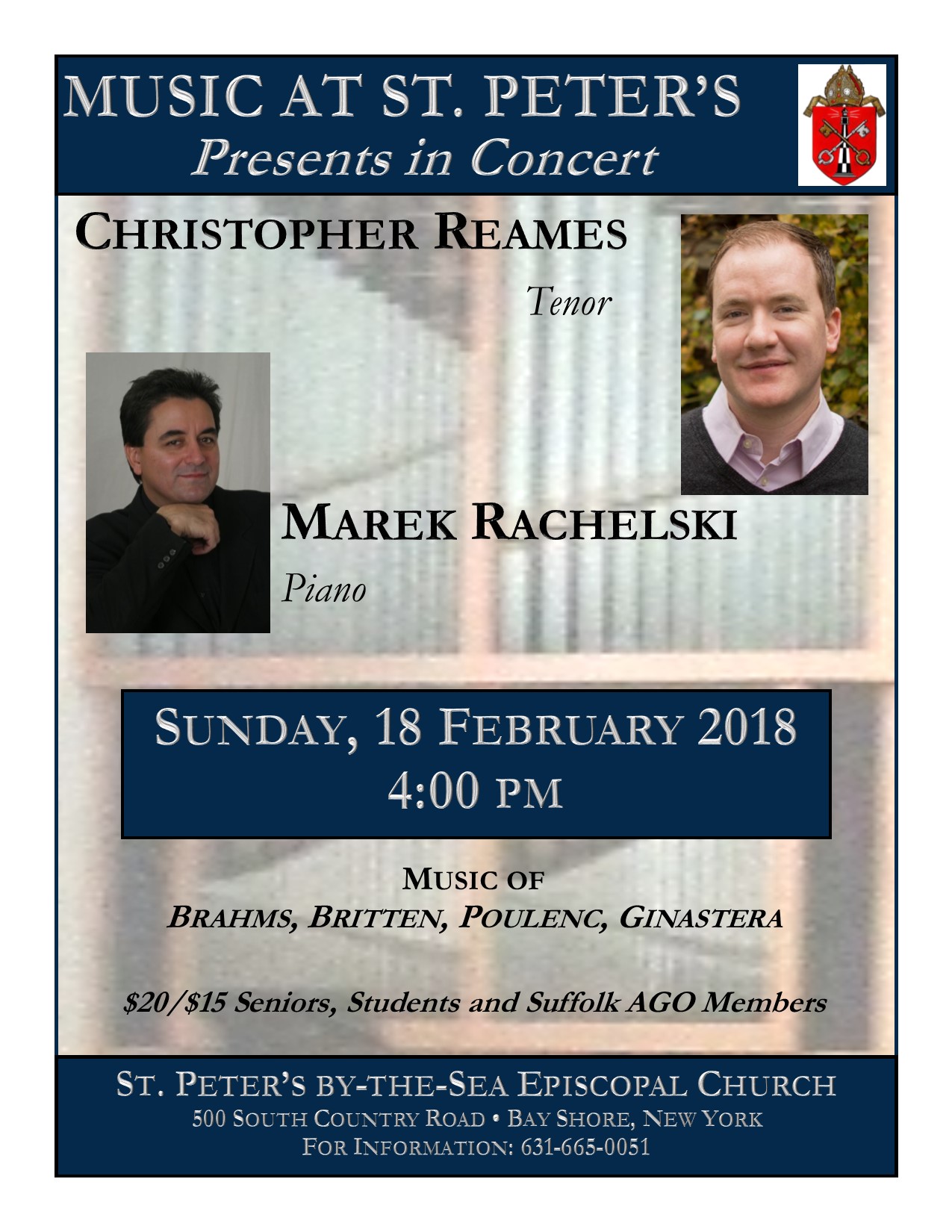 Weekdays:


Bible Study: Tuesdays at 10:30 am

Parish Office is open Monday through Thursday 9:30 am until 2 pm.

A warm welcome will greet you at St. Peter's!
St. Peter's by-the-Sea Episcopal Church
500 South Country Road
Bay Shore, NY 11706
Phone: 631-665-0051
Fax: 631-665-0052
Join us on FACEBOOK

www.facebook.com/StPetersbytheSea
www.facebook.com/StPetersBytheseaEarlyChildhoodLearningCenter
https://www.facebook.com/centerforartstpeters
https://www.facebook.com/stpeterstreblechoir/
AND FOLLOW US ON TWITTER
https://twitter.com/stpetersbaysho1