October 20, 2019
The Nineteenth Sunday after Pentecost
(Proper 24/C)
Click on the picture to see the leaflet for this Sunday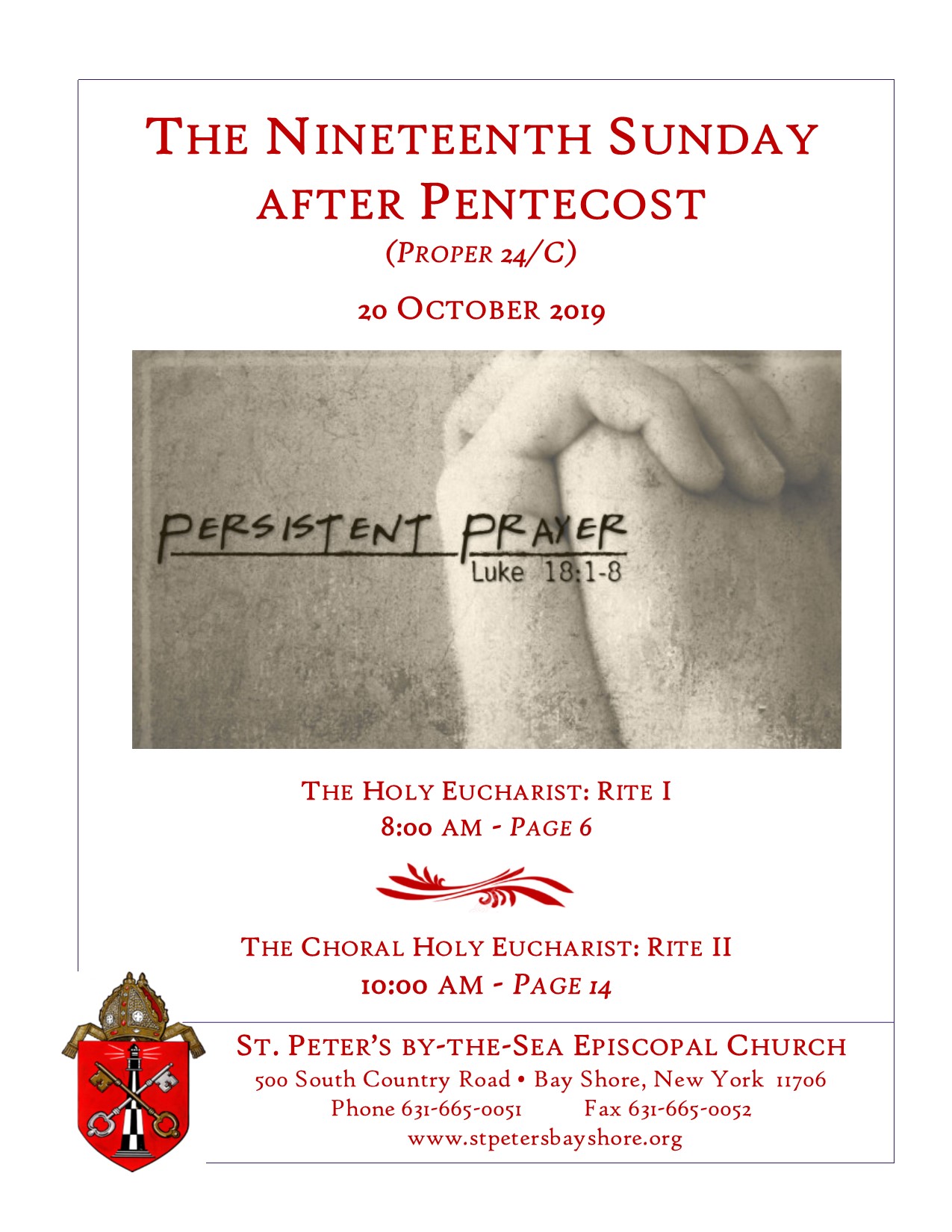 STEWARDSHIP
Good stewardship requires that we acknowledge God's gifts, take an inventory of what we have been given, and decide how to use what we have been given. Pray this prayer on Friday, October 18 and the week following:
Almighty God, whose loving hand has given me all that I possess: Grant me grace that I may honor you with my substance, and, remembering the account which I must one day give, may be a faithful steward of your bounty, through Jesus Christ our Lord. Amen.
God has provided us with all we need in abundance. It is up to us to be good stewards of all he has given us. Pray this prayer this week (especially on Friday, October 25) reflecting on our management of God's gifts:
O merciful Creator, whose hand is open wide to satisfy the needs of every living creature: Make us, we beseech thee, ever thankful for thy loving providence; and grant that we, remembering the account that we must one day give, may be faithful stewards of thy bounty; through Jesus Christ our Lord, who with thee and the Holy Spirit liveth and reigneth, one God, now and forever. Amen.
---
— Parish Notices —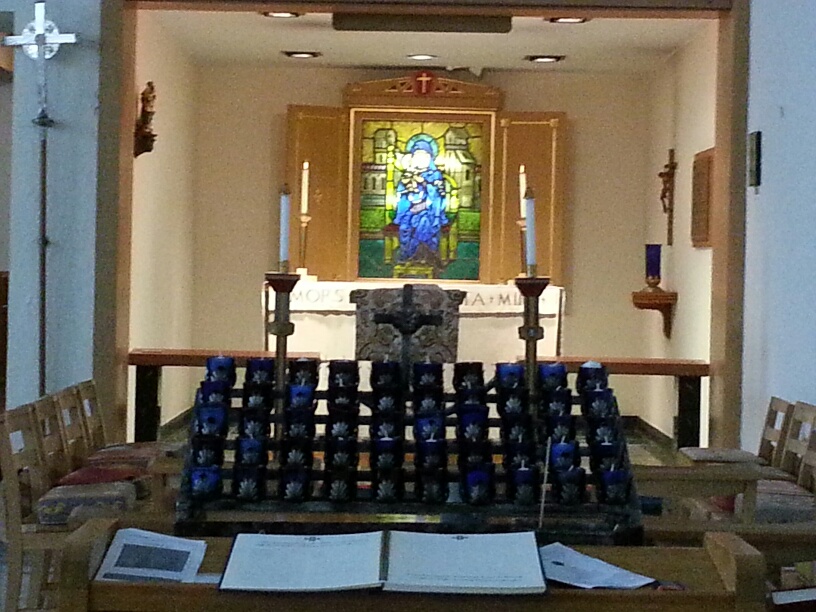 Bible Study continues on Tuesdays at 10:30 in the Library and Sundays at 9am. All are invited. For Sunday morning preparation, you might try "Preparing for Sunday". Just click on the Preparing for Sunday icon at the top of the Sidebar on our home page. The National Church's "Bible Studies that Work" is on page 26 of this week's service booklet.
St. Peter's Thrift Shop, serving the greater Bay Shore community, is open on Fridays and Saturdays from 10am to 3pm. Staffed by Angela Becker, Ida Olsen, Jackie Marsden, Jane Muchmore, and Linda Brady, they are seeking new volunteers. Anyone interested in helping, please contact Ida, Jane or Linda.
All Saints'/All Souls' Remembrances On November 3, we will have two opportunities to gather together to remember and to give thanks for many special people in our lives whom we honor and are now with our Lord. If you would like to remember loved ones at our All Saints' Sunday services on November 3 and in the Memorial Concert that afternoon, please use the appropriate envelope provided in the narthex and outside St. Edmund's Chapel.
Music at St. Peter's has two events coming up soon:
NEXT SATURDAY, October 26, at 8pm, eVoco Mixed Ensemble will present their Fall Concert titled "Journeys and Awakenings." Information is below.

SUNDAY, November 3, we will remember and celebrate those whose lives and witness have deeply and profoundly touched our own in a special Memorial Concert, sung by our own Parish Choir and Soloists with Chamber Orchestra. Those loved ones remembered in the morning services will be commemorated then, as well, especially honoring the memory of the Reverend Alan Edmiston and all those loved ones who have died in the past year. Information is below.

Episcopal Visitation:Bishop Geralyn Wolf, Assistant Bishop of the Diocese will visit us on Sunday, December 1, the First Sunday of Advent for our Diocesan Episcopal Visitation. More information will be forthcoming, but we will have only one service that morning at 10AM. This will be a festival occasion, allowing us to begin the new Church Year celebrating the Holy Eucharist together with one of our Diocesan Bishops, so mark your calendars now and plan to attend!
---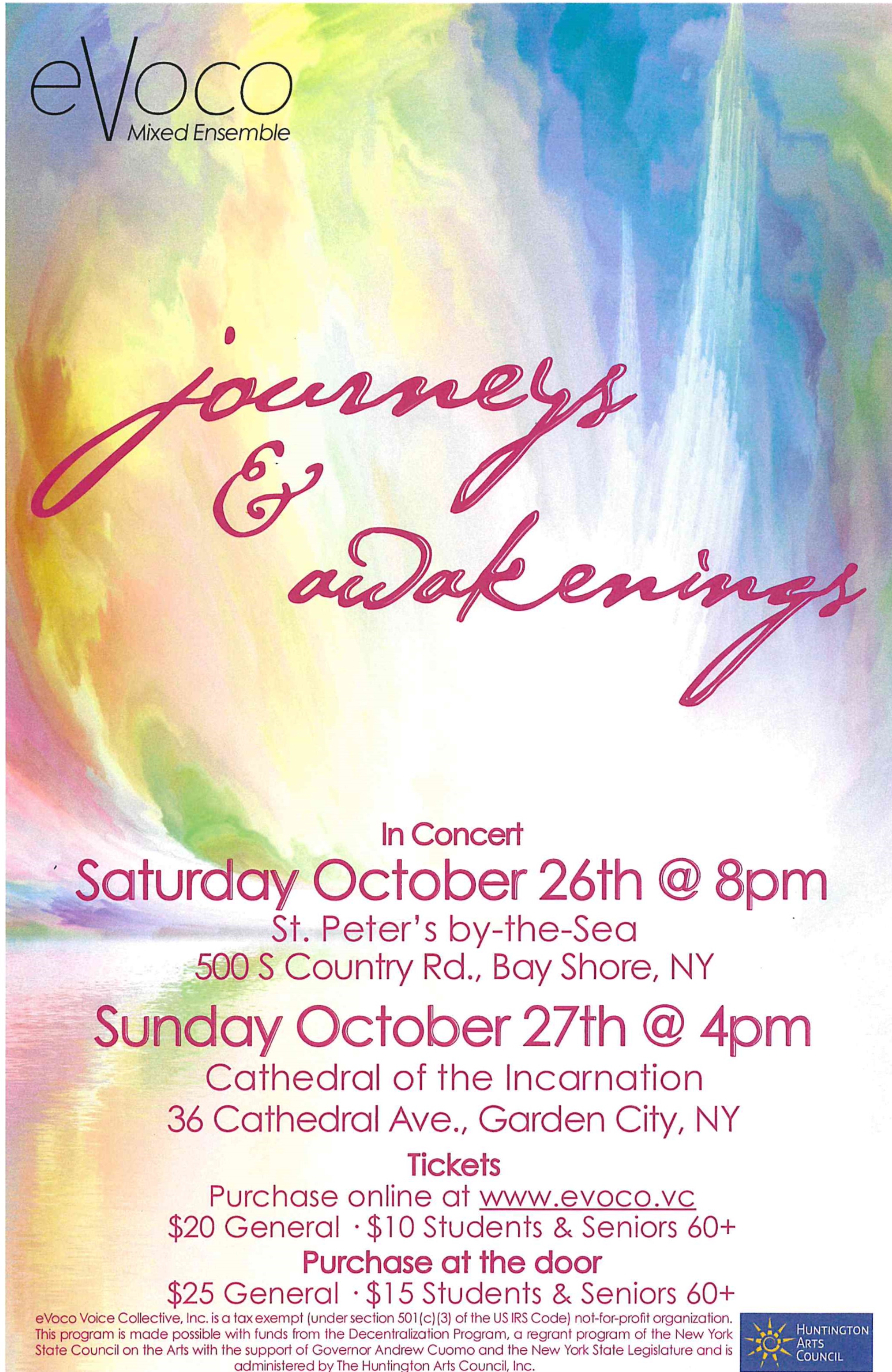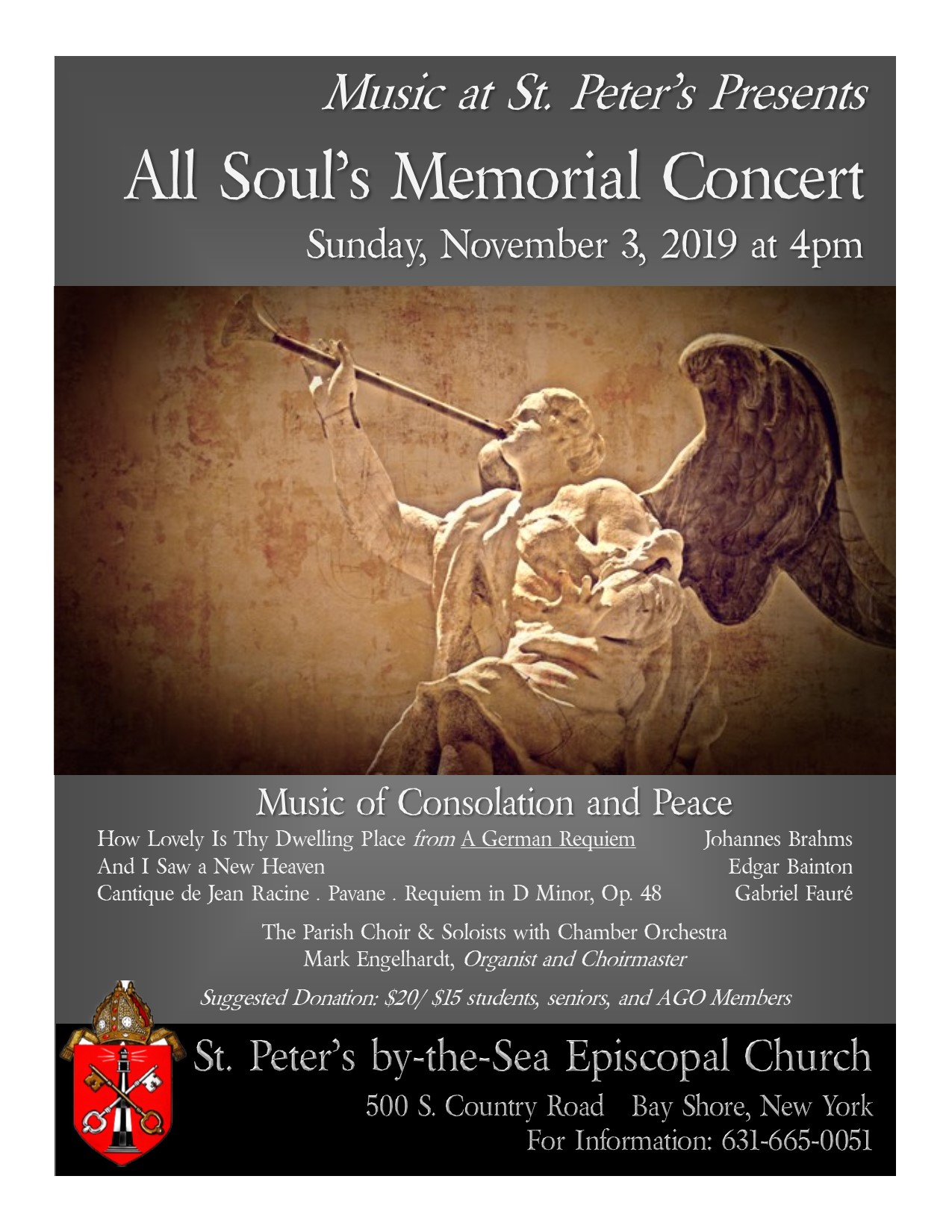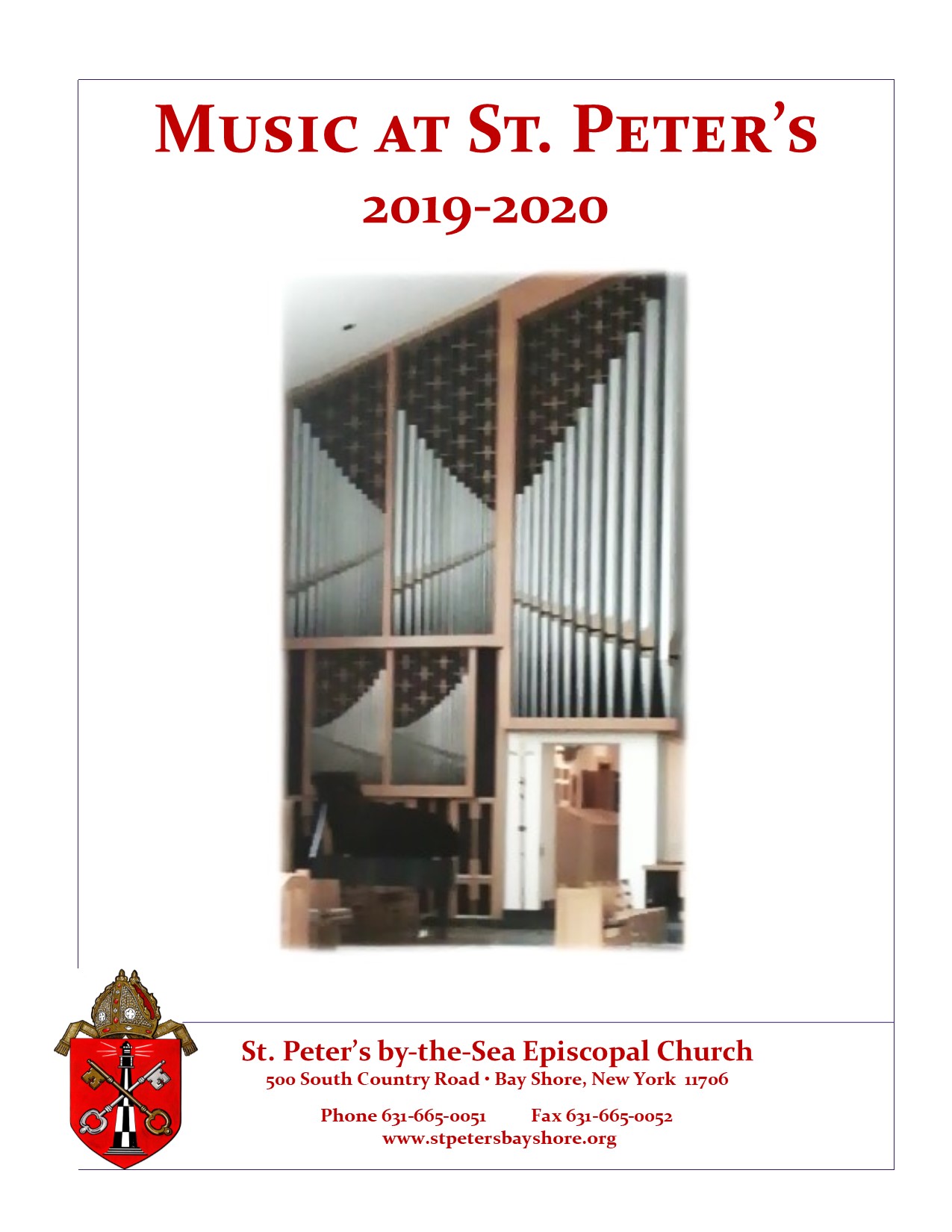 Weekdays:


Bible Study: Tuesdays at 10:30 am
Sundays at 9:00 am
Parish Office is open Monday through Friday 9:30 am until 2 pm.
A warm welcome will greet you at St. Peter's!
St. Peter's by-the-Sea Episcopal Church
500 South Country Road
Bay Shore, NY 11706
Phone: 631-665-0051
Fax: 631-665-0052
Join us on FACEBOOK

www.facebook.com/StPetersbytheSea
https://www.facebook.com/stpetersmusic/
AND FOLLOW US ON TWITTER
https://twitter.com/stpetersbaysho1