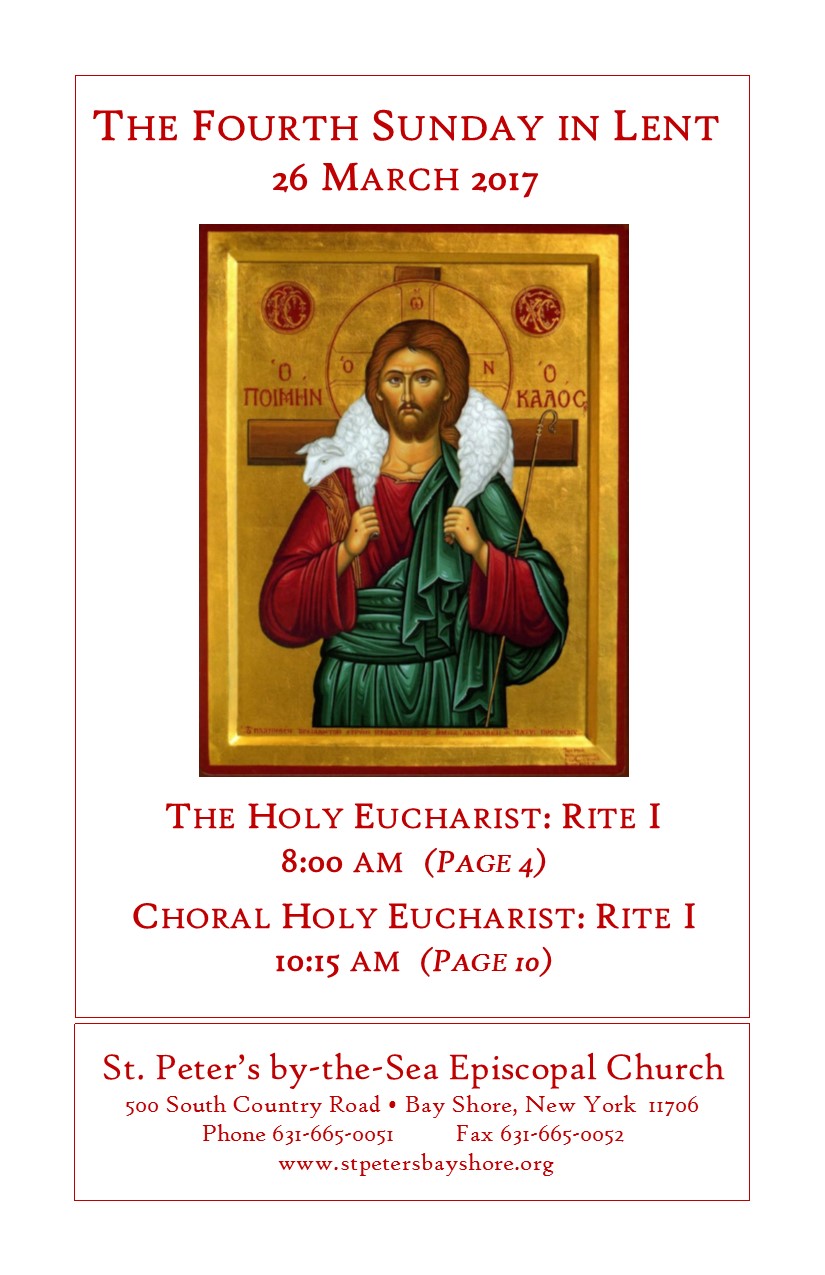 March 26, 2017

The Fourth Sunday

in Lent
The Holy Eucharist: Rite I

8:00 am
(St. Edmund's Chapel)

The Choral Holy Eucharist: Rite I

10:15 am
(Church)
Click the picture to see the leaflet
The Right Reverend Johncy Itty
Celebrant and Preacher

Mark Engelhardt, Organist and Director of Music
---
Parish Notices for the week of 26 March 2017
Bible Study At St. Peter's. Don't forget . . . Sundays between services and Tuesdays at 10:30!
The Atlantic Deanery 2017 Lenten Program: Wednesdays at 6 pm at St. Mark's Church in Islip. Click here for Details.
Upcoming Music at St. Peter's Concert: "Cross Island" April 2 at 4 pm. Click Here for information.
Still want to farm some land, and want to use ours?Better hurry! Space is going fast. Speak with Sal right away to reserve a plot of 20'x20' from April through October for a donation of $100.
The Vestry is planning an Easter Outreach Ministry to the homeless of Wash-up Kits to be given on Easter Sunday. Donations of $5.00 will provide funds for the Vestry to purchase toiletries for our homeless brothers and sisters. Envelopes are provided in the narthex for your donation. Please be generous.
The Faculty of the Center for the Arts is going to have a "Musical Explorers" event at the Bay Shore/Brightwaters Library on Saturday, April 8 at 10:30. 15 children in kindergarten and first grade (and a parent/caregiver) will have an opportunity to explore how sound is made, and how it becomes music. You can help us by donations of some clean recyclables: jugs, cans, egg cartons, plastic bottles, tissue boxes, paper towel/toilet paper rolls, etc. Essentially anything that can be used to make some noise. Your donations may be left with Bevin at her Sunday School Classroom, or give to Mark during the week. We need the items by April 5, and thanks for your generosity!
The Holy Week & Easter Schedule for 2017
Highlights this year include:
Tuesday in Holy Week

, Holy Eucharist at 10:00 am, followed by the Tuesday Bible Study

Stations of the Cross:

Wednesday at 7:30 pm; Good Friday at Noon

We will NOT celebrate the Easter Vigil on Saturday

There will be ONE Parish-wide Festival Celebration of the

Eucharist on Easter Day at 10am, beginning with the lighting of the Paschal Candle, concluding with a Festive Easter Reception and Easter Egg Hunt for the kids.
---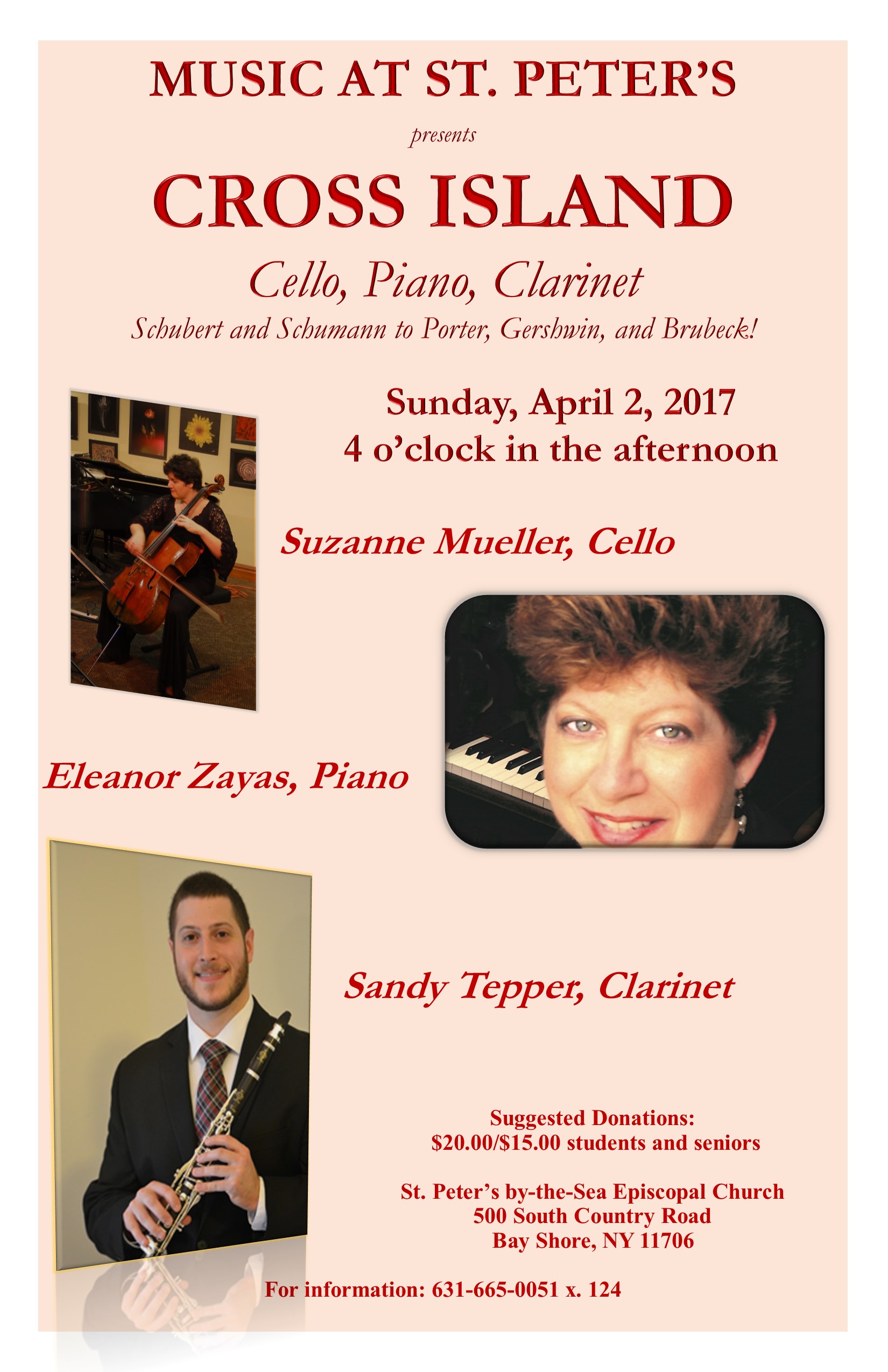 ---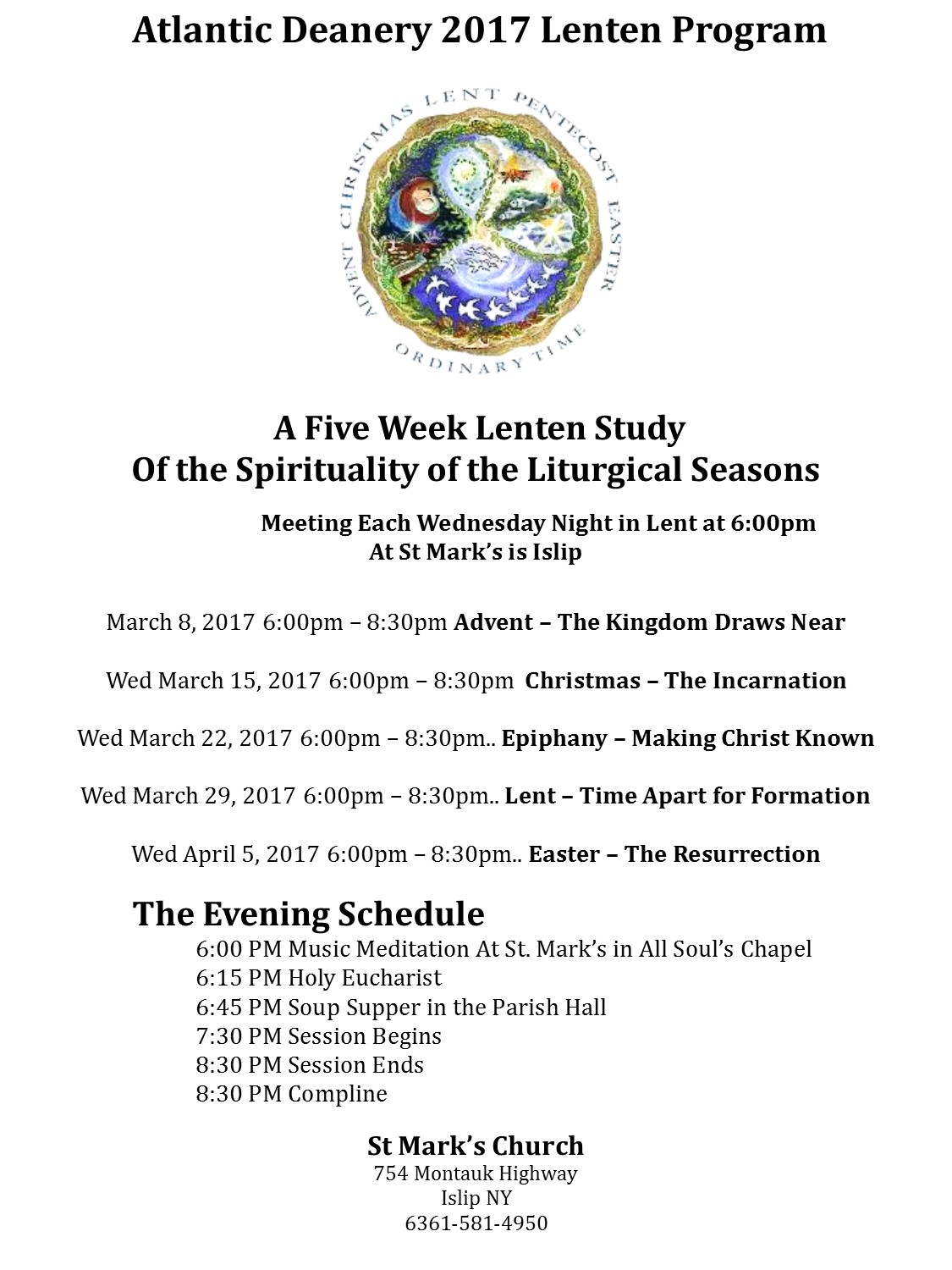 ---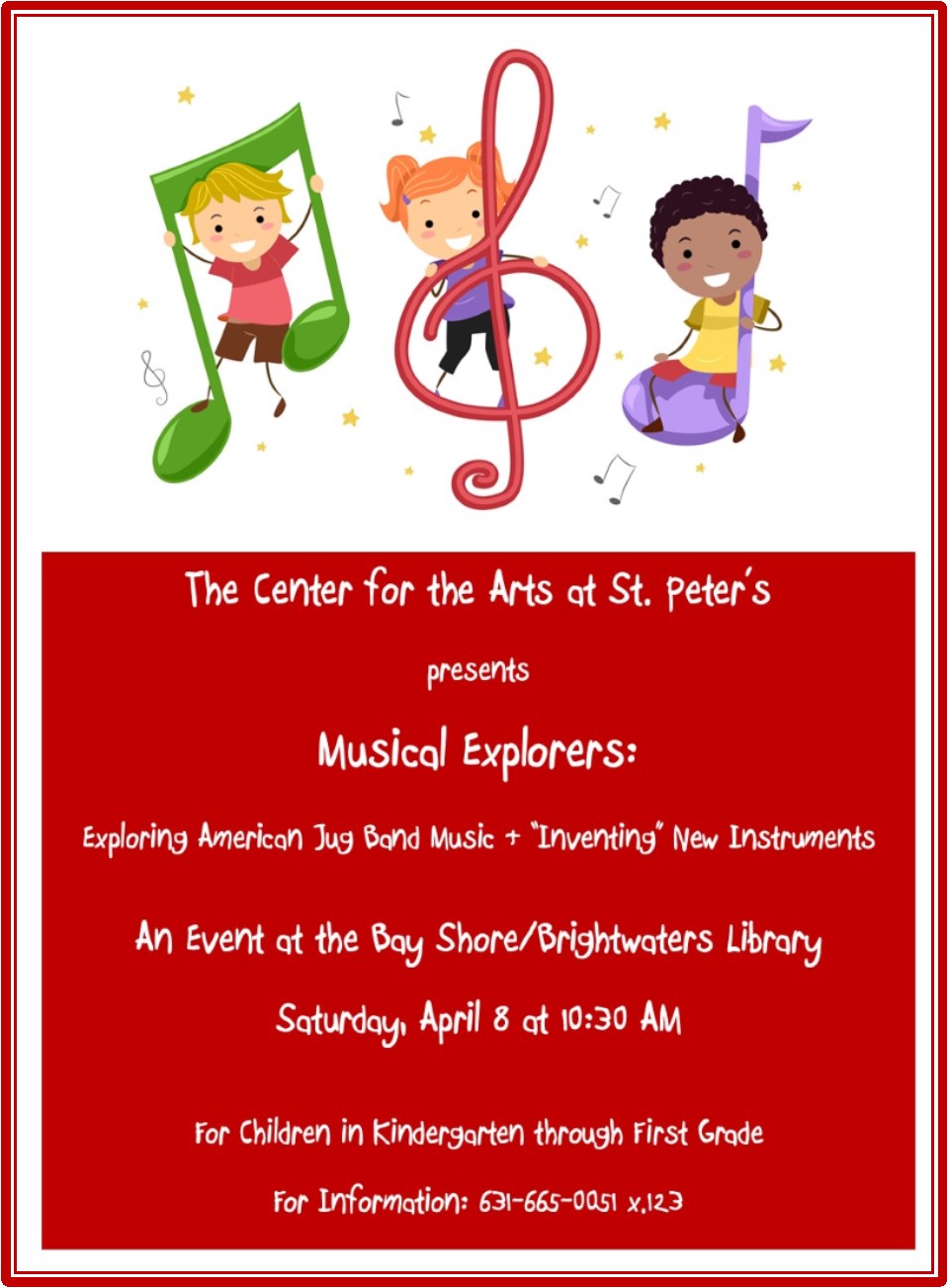 ---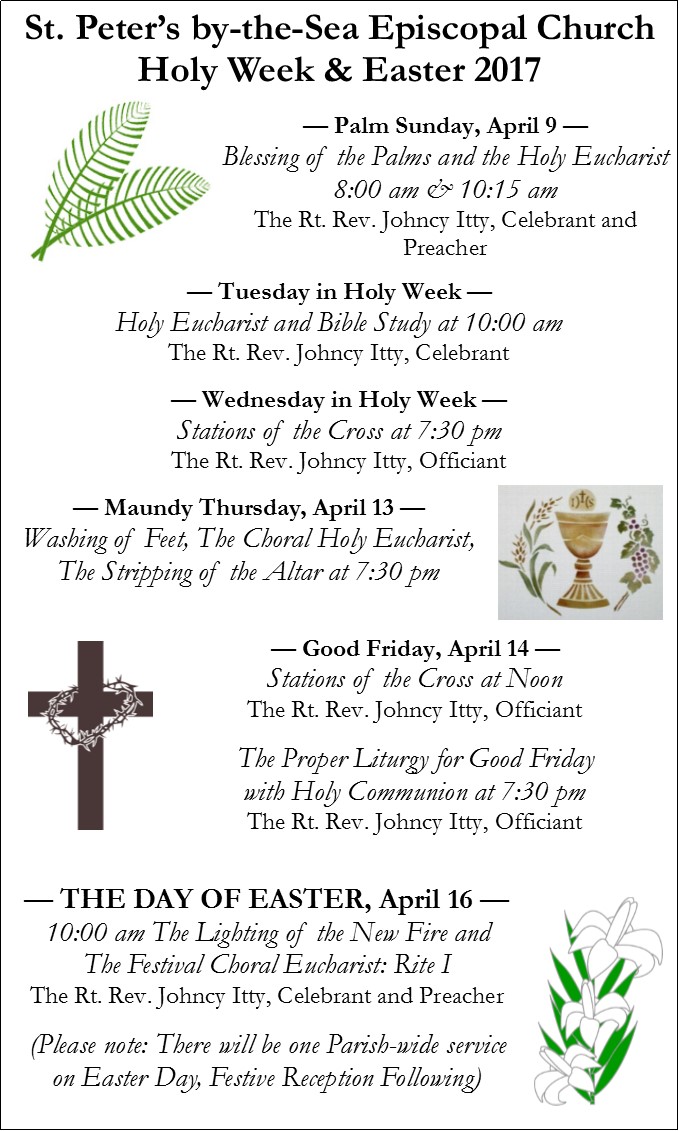 ---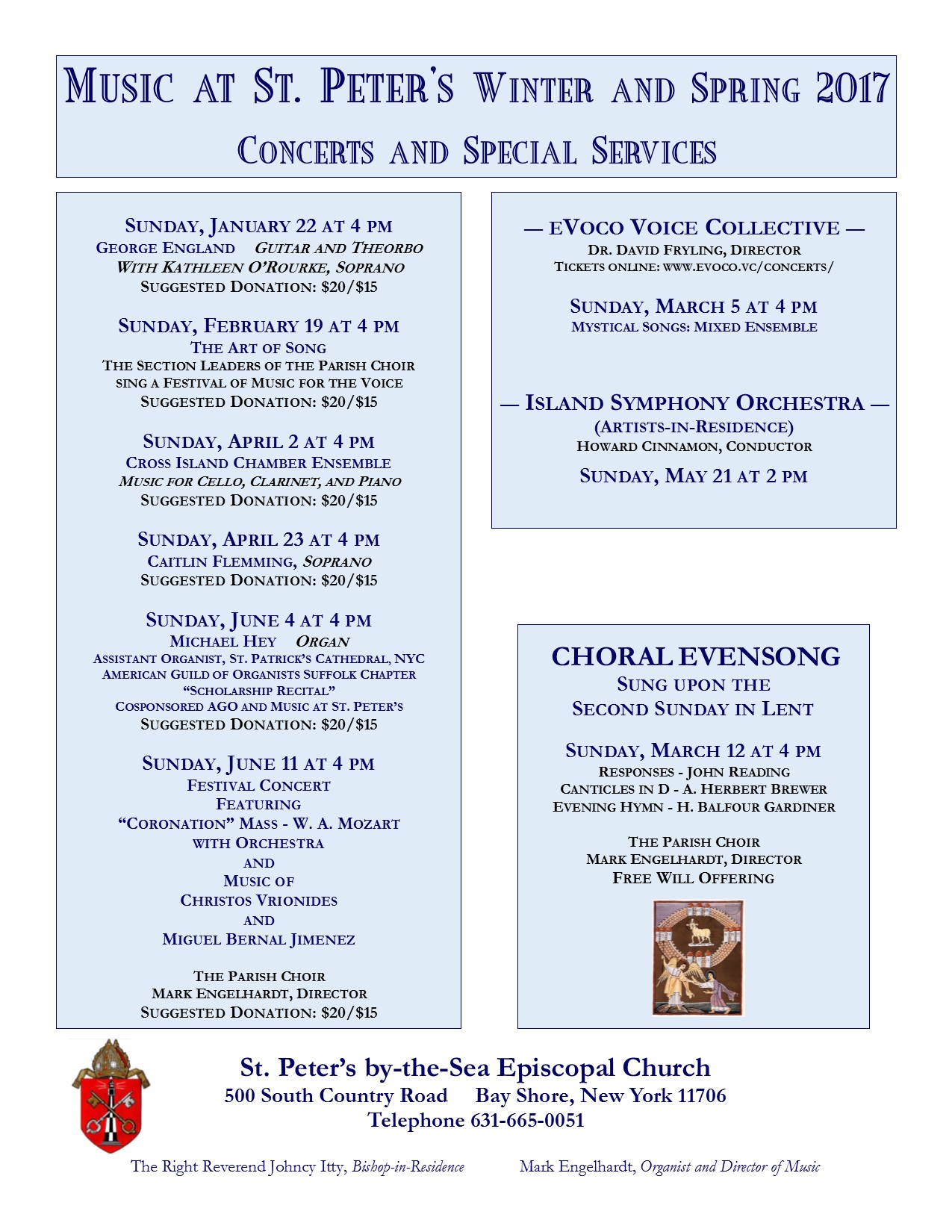 ---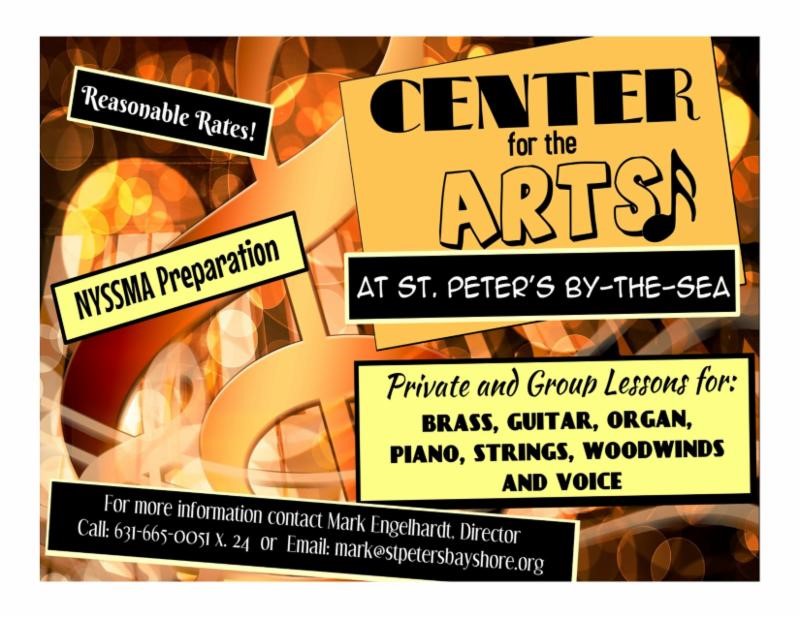 ---
Weekdays:
Morning Prayer is read Monday at 9 am.
Parish Office is open Monday through Thursday 9 am until 2 pm.

A warm welcome will greet you at St. Peter's!
St. Peter's by-the-Sea Episcopal Church
500 South Country Road
Bay Shore, NY 11706
Phone: 631-665-0051
Fax: 631-665-0052
Join us on FACEBOOK

www.facebook.com/StPetersbytheSea
www.facebook.com/StPetersBytheseaEarlyChildhoodLearningCenter
https://www.facebook.com/centerforartstpeters
https://www.facebook.com/stpeterstreblechoir/
AND FOLLOW US ON TWITTER
https://twitter.com/stpetersbaysho1