23 July 2017

The Seventh Sunday after

Pentecost
(Proper 11)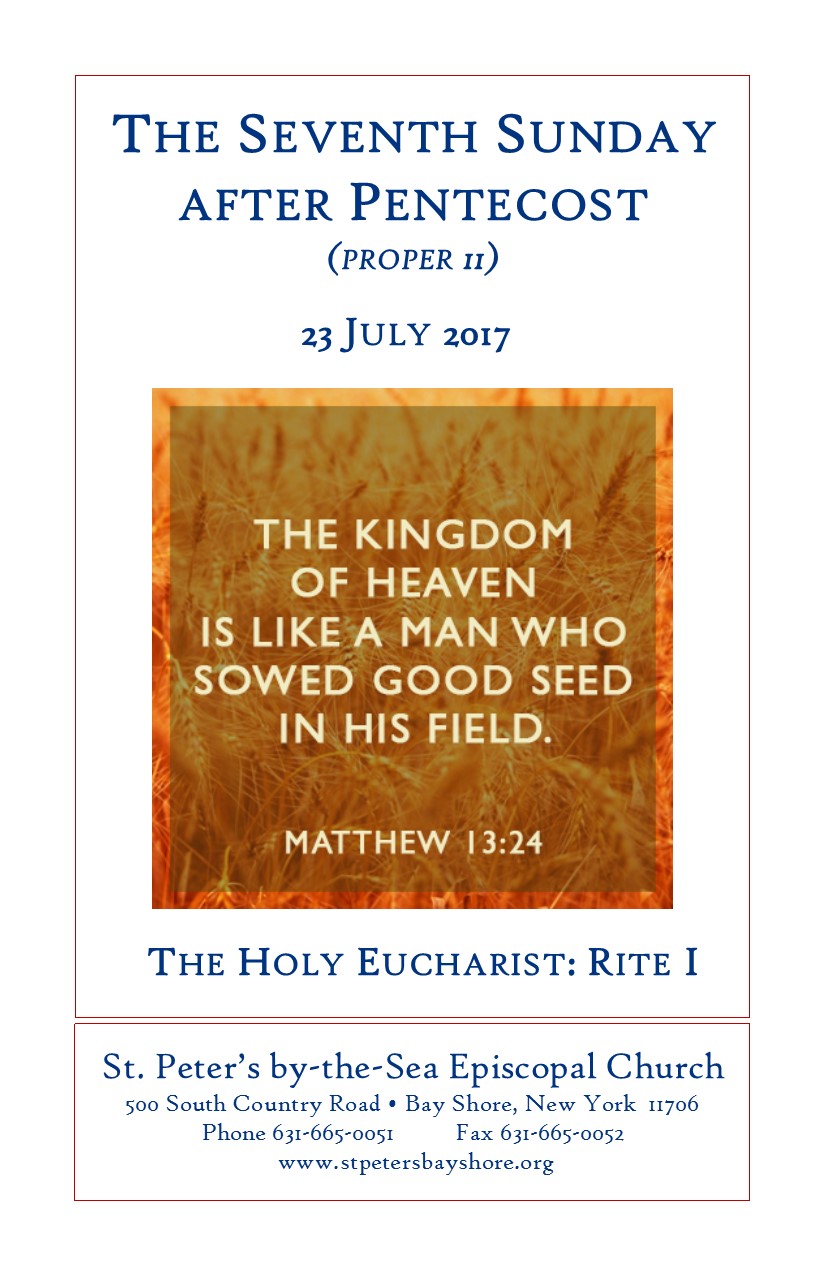 Parish Eucharist: Rite I

9:30 am
St. Edmund's Chapel
Click the picture to see the leaflet
The Right Reverend Johncy Itty
Celebrant and Preacher

Mark Engelhardt, Organist and Director of Music
---
— PARISH NOTICES —
Summer is a time for many projects around the church. Grateful Thanks to:
Bill Kern and his family for his hard work repainting the parking lots in the hot summer heat, and for weeding at the farm.
Sara Merrigan for re-staining the pews in the Church.
Sal Basile for hours washing, waxing, and polishing the floors of the entire Church and School complex, and the myriad other projects he continuously has in progress,
keeping our buildings and grounds looking ship-shape.
Summer Schedules: Mark will be on vacation from Monday, July 24 through Monday, August 21. Zac Schurman, organ scholar, will play for Parish Services during that period. Sal will be on hand in the office.
Bible Study continues on Tuesdays through the summer, beginning at 10:30 am. Currently examining the Book of Acts, we welcome newcomers!
The Food Pantry is low on Peanut Butter and Jelly and Spaghettios and Ravioli in cans. All your kind donations are gratefully received.
---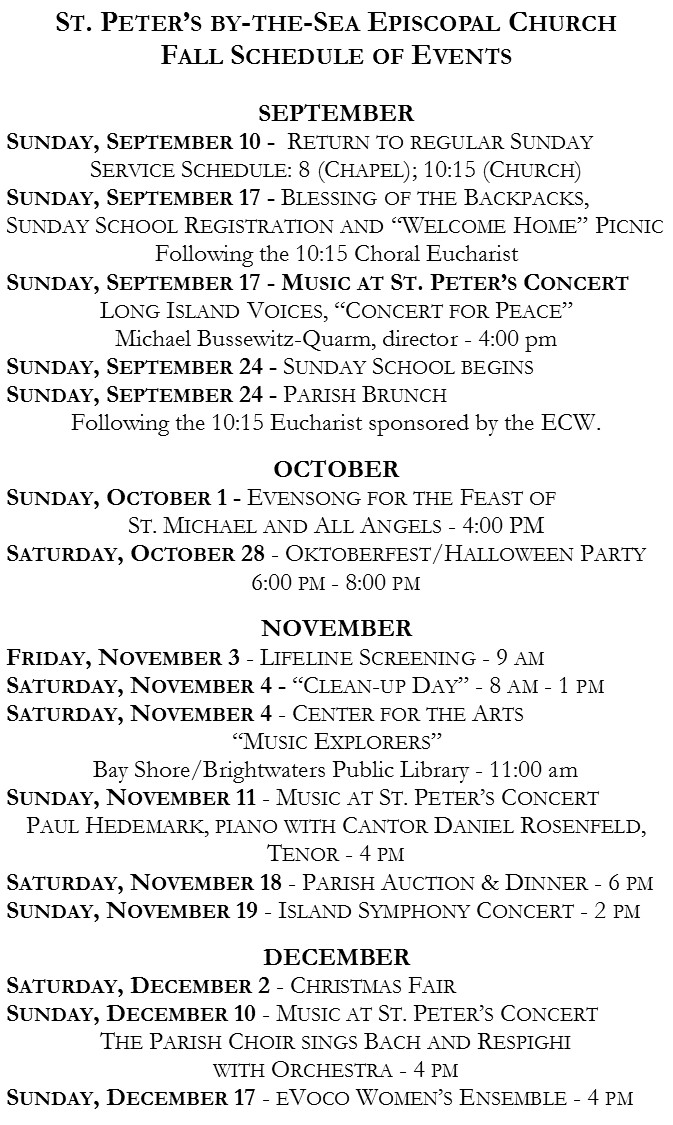 ---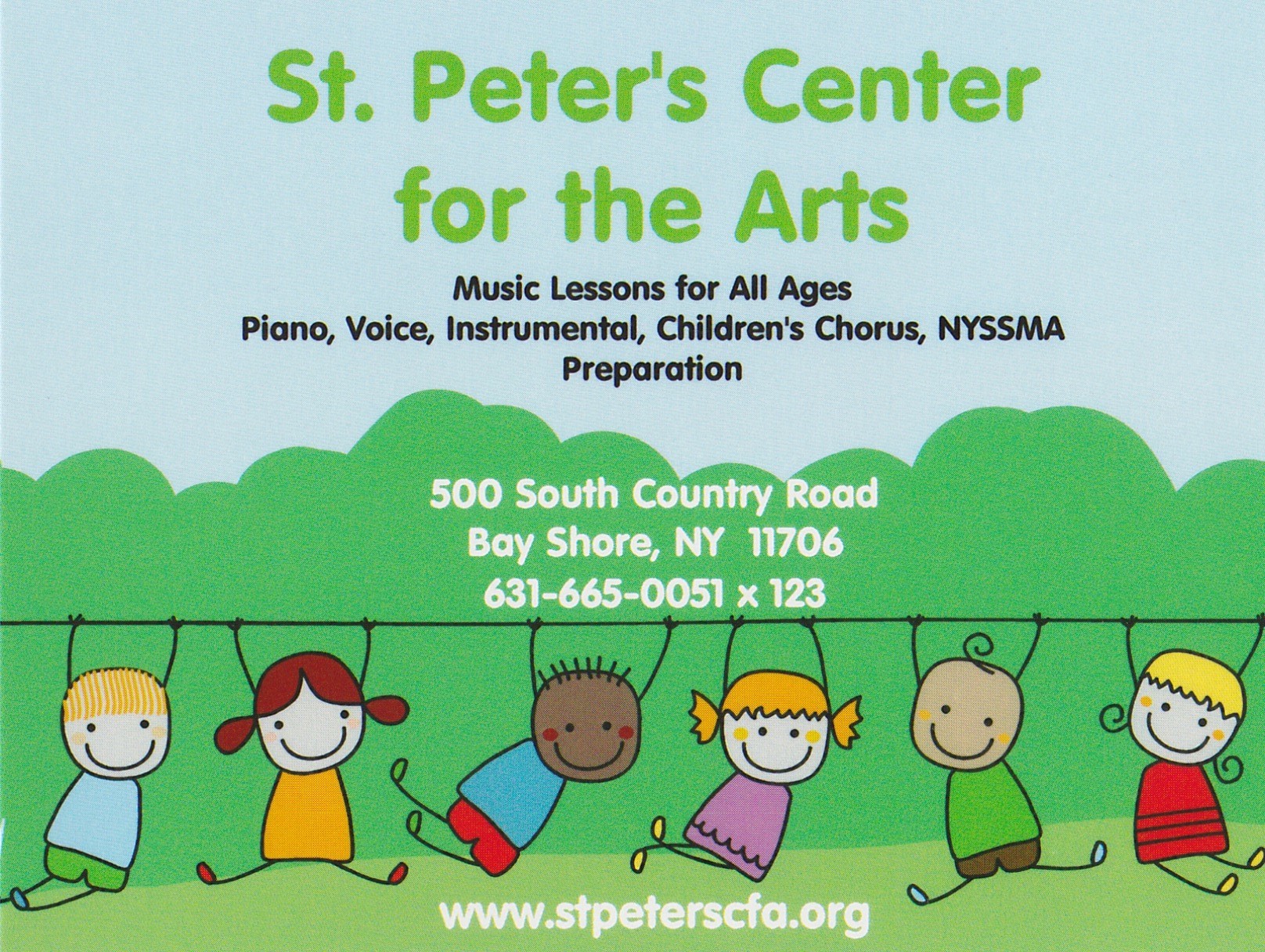 ---
Weekdays:


Bible Study: Tuesdays at 10:30 am

Parish Office is open Monday through Thursday 9:30 am until 2 pm.

A warm welcome will greet you at St. Peter's!
St. Peter's by-the-Sea Episcopal Church
500 South Country Road
Bay Shore, NY 11706
Phone: 631-665-0051
Fax: 631-665-0052
Join us on FACEBOOK

www.facebook.com/StPetersbytheSea
www.facebook.com/StPetersBytheseaEarlyChildhoodLearningCenter
https://www.facebook.com/centerforartstpeters
https://www.facebook.com/stpeterstreblechoir/
AND FOLLOW US ON TWITTER
https://twitter.com/stpetersbaysho1