22 October 2017

The Twentieth Sunday after Pentecost
(Proper 24A)

Click the picture to see the leaflet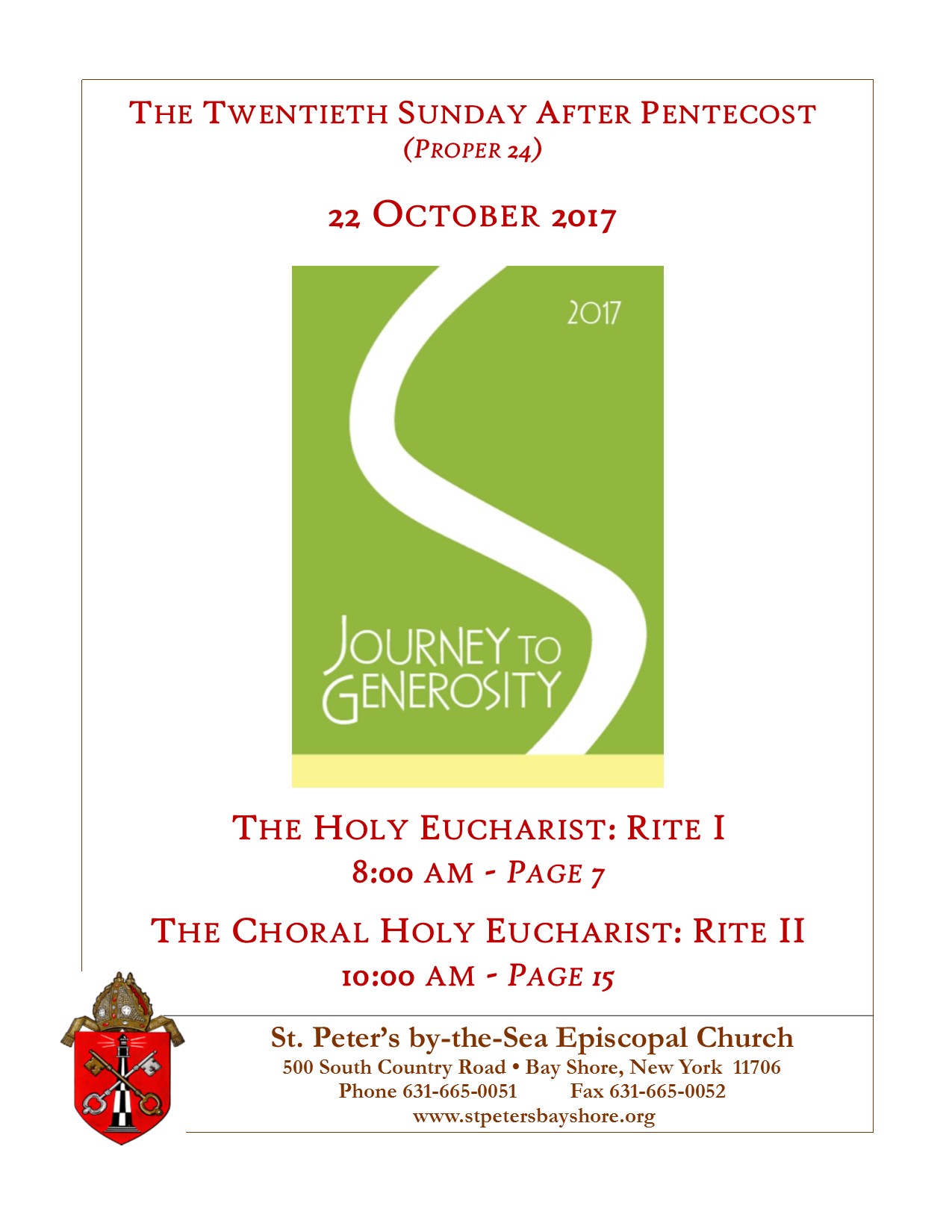 The Holy Eucharist: Rite I
8 AM

St. Edmund's Chapel
The Choral Eucharist: Rite II
10 AM
Church
The Right Reverend Johncy Itty
Celebrant and Preacher

Mark Engelhardt
Organist and Director of Music
---
— PARISH NOTICES —
This Morning . . . Today is the beginning of our 2017 Stewardship Campaign "Journey to Generosity". Please take the time to read the two articles on the previous pages, and we will pray the Campaign Prayers of the People at both services. Also this morning, we renew the tradition of Family Service at the 10am service! Today, and on the Third Sundays of each month, Sunday School classes will attend the full service, and members of the Sunday School classes will participate as Lectors, Intercessors and other roles, and the Treble choir will sing with the Parish Choir. This morning, we welcome Aleena Porter, Lector, and Berit Franwick, Intercessor. Berit has also been designated our Head Chorister and will be vested with the appropriate RSCM medal this morning.
Several Parish Events are coming up. Here's a "reminder" list:
¨ Saturday, October 28: Oktoberfest and Spooktacular Organ Concert
¨ Friday, November 3: Lifeline Screening (Special prices available. See below)
¨ Saturday, November 4: Parish "Clean up" Day
¨ Sunday, November 12: Music at St. Peter's presents Paul Hedemark (piano)
and Daniel Rosenfeld, (Tenor)
¨ Saturday, November 18: Parish Auction and Dinner
St. Peter's Parish Auction will be held on Saturday, November 18. Any suitable items (antiques, art work, collectibles, small furniture pieces, etc.) you may wish to donate for the auction may be brought in now. Check with Sal for a convenient time for delivery.
Have You Taken Control of Your Health Today? Life Line Screening will be here on Friday, November 3, 2017 offering safe, painless, non-invasive preventive health screenings that are typically not a part of a routine physical. To learn more about your risk of having a stroke or vascular disease, there is no time like the present to take advantage of this limited-time offer, being extended to our members only! In order to receive your special member pricing, and first choice of appointment times, you MUST pre-register via one of the methods below. CALL: the pre-registration phone number from any printed flyer, poster, etc.; VISIT: www.lifelinescreening.com/communitycircle; TEXT: the word 'circle' to 797979.
The Suffolk ECW Fall Meeting will be at St. Peter's on Thursday, 26 October, beginning with the Holy Eucharist at 10:30am. Bishop Itty will celebrate and the Reverend Canon Cecily Broderick y Guerra will preach. The Program will include the election of Officers and a presentation by our own Robin Lombardo on "Music and Memory." Bring a Sandwich and a friend; desserts and beverages provided. You may also bring in completed items for Seamen's Church and any items you have collected for St. John's Hospital, Far Rockaway. (Please see the poster for details.)
The Monthly Newsletter will kick off next month. Anyone with pictures, reviews of past events, or articles of interest about goings-on in the parish are invited to submit to Mark Engelhardt.
---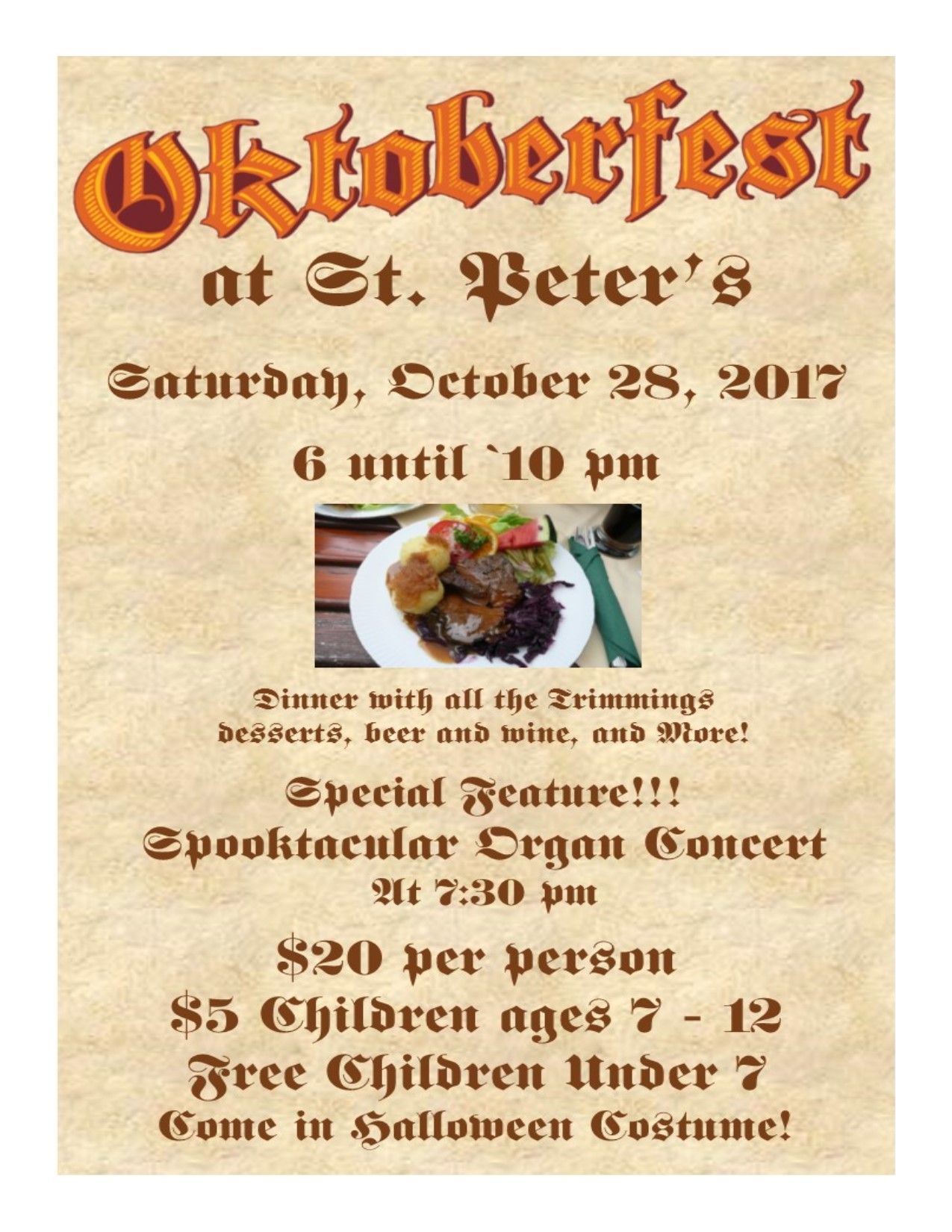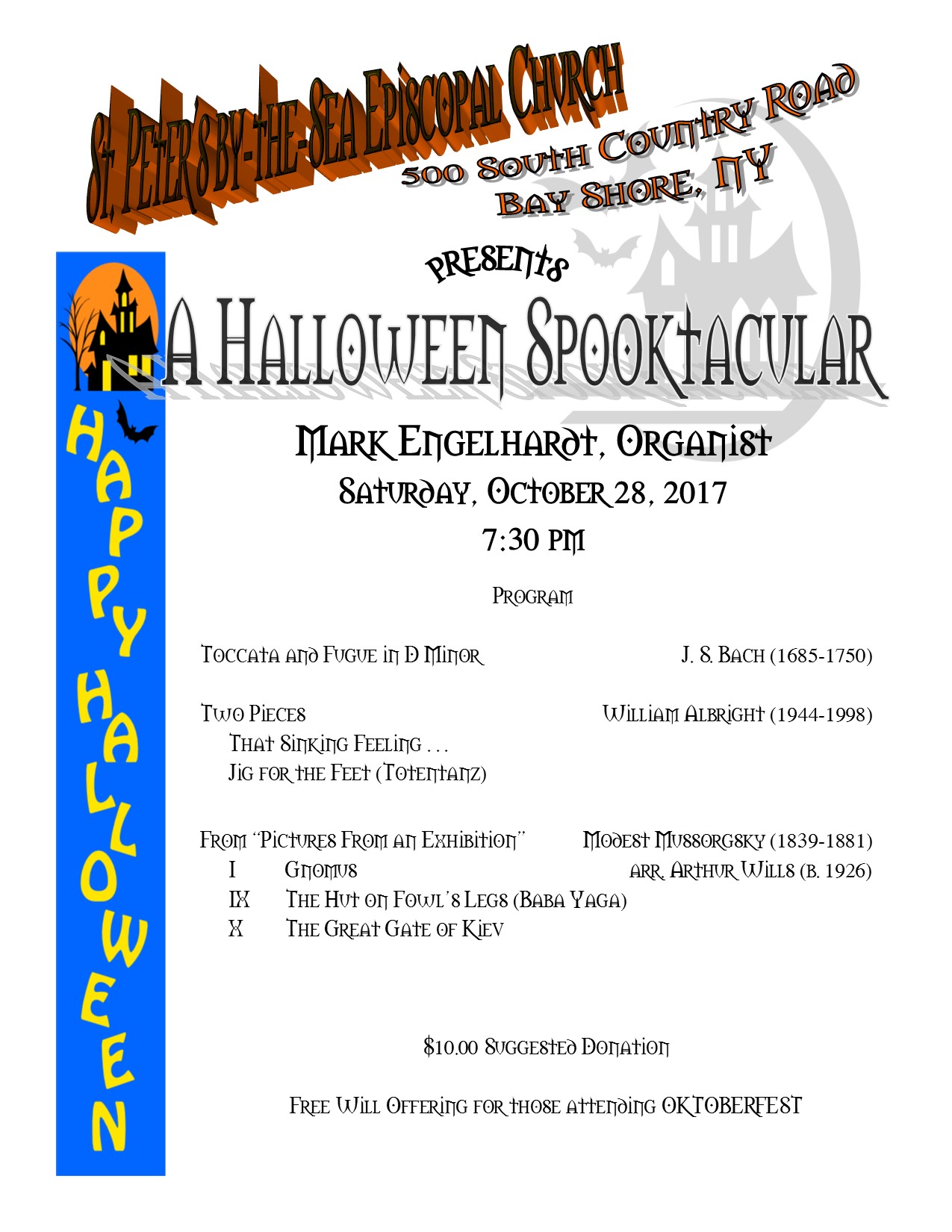 ---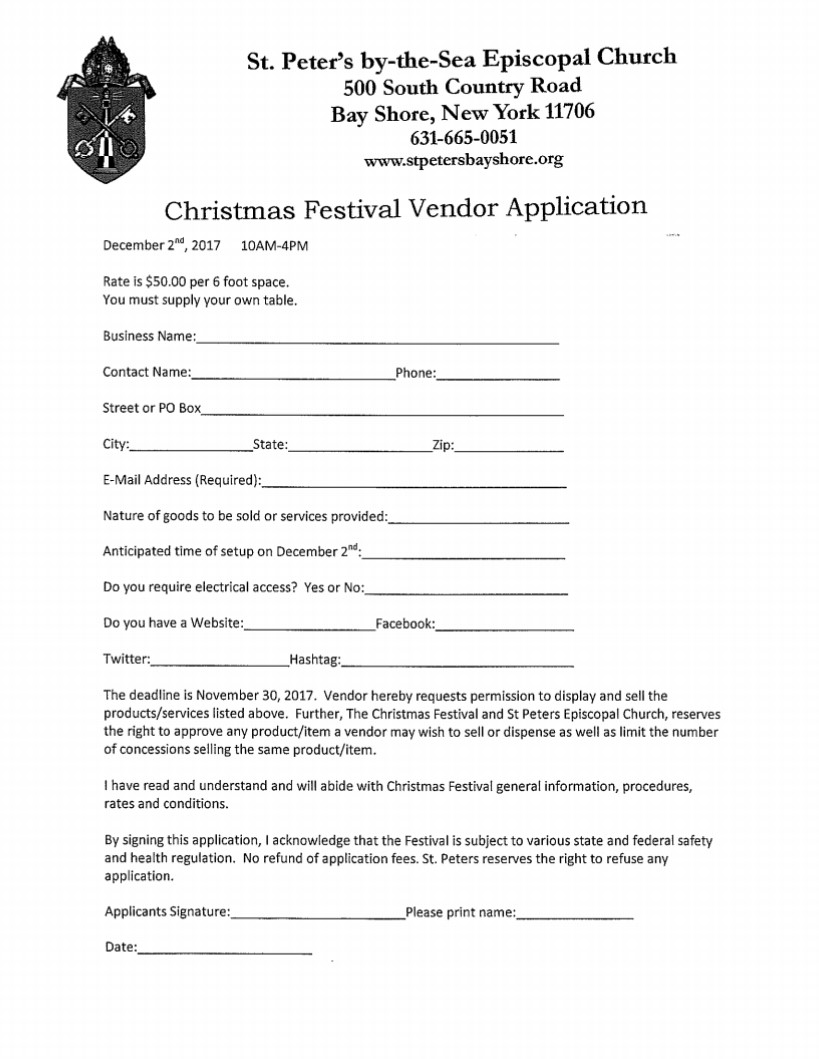 ADVANCE NOTICE: St. Peter's Christmas Fair is Not Too Far Away!!!
Saturday, December 2 is the date . . . Mark Your Calendars NOW!!
For a pdf copy of the Vendor Application, please click on the picture.
---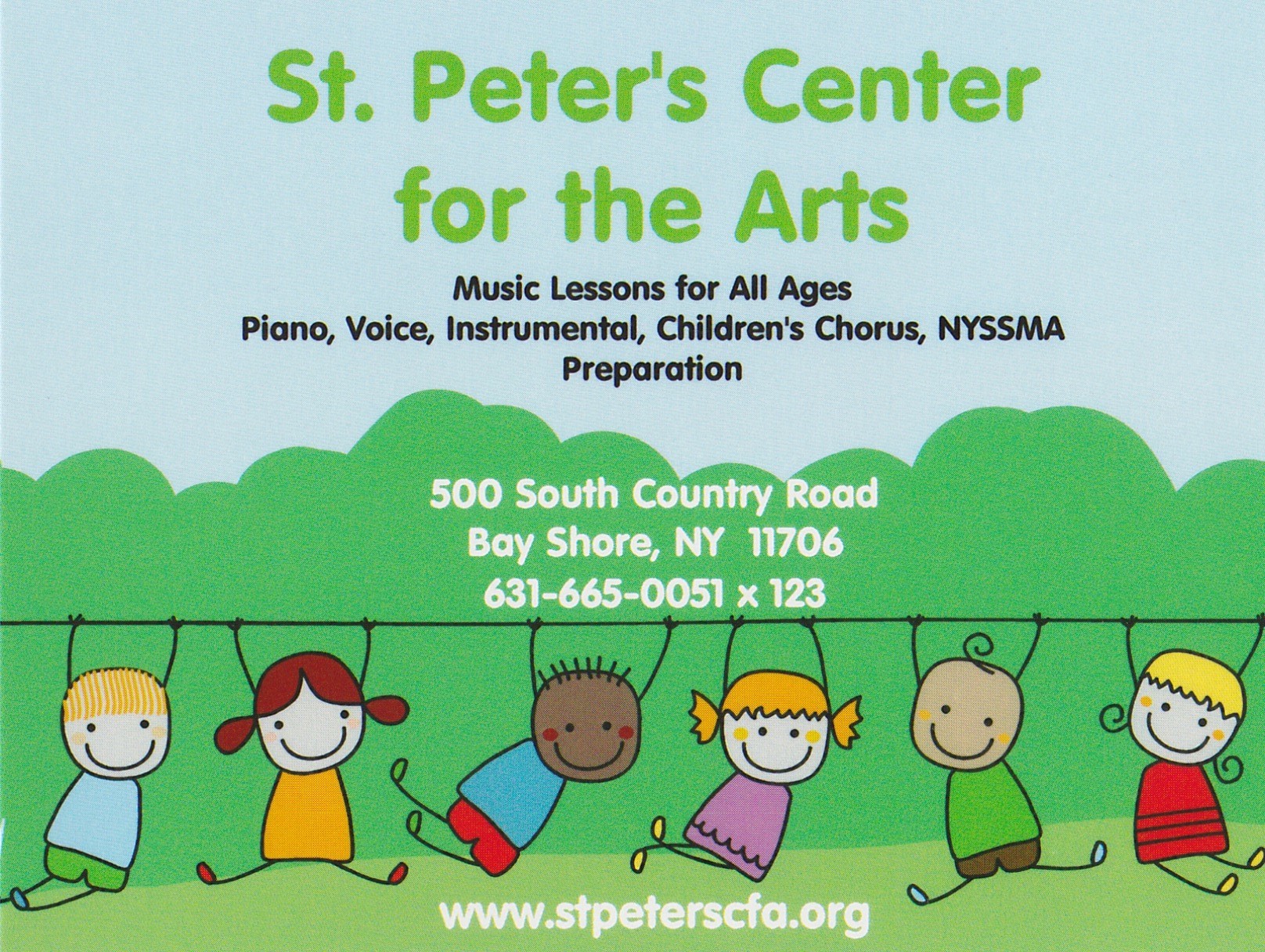 ---
Weekdays:


Bible Study: Tuesdays at 10:30 am

Parish Office is open Monday through Thursday 9:30 am until 2 pm.

A warm welcome will greet you at St. Peter's!
St. Peter's by-the-Sea Episcopal Church
500 South Country Road
Bay Shore, NY 11706
Phone: 631-665-0051
Fax: 631-665-0052
Join us on FACEBOOK

www.facebook.com/StPetersbytheSea
www.facebook.com/StPetersBytheseaEarlyChildhoodLearningCenter
https://www.facebook.com/centerforartstpeters
https://www.facebook.com/stpeterstreblechoir/
AND FOLLOW US ON TWITTER
https://twitter.com/stpetersbaysho1