The Tenth Sunday after Pentecost
(Proper 13)

Click on the picture below to see the service leaflet for this Sunday.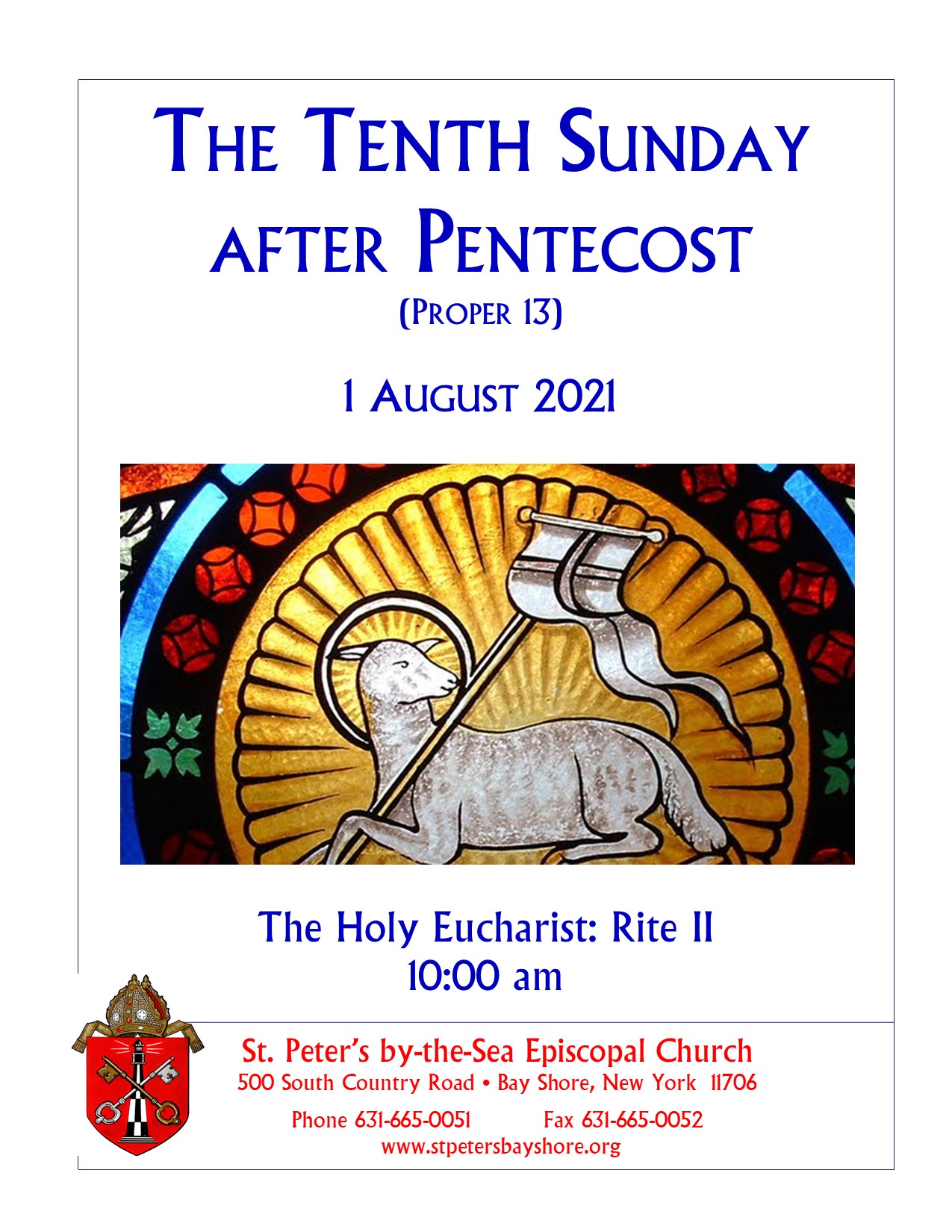 — Parish Notices —
In a notice sent to all parishes on July 28th, Bishop Provenzano has stated that "based on the latest CDC information and the increase of Covid-19 infections related to the Delta variant, everyone attending any indoor gathering, liturgy, etc., is required to wear a mask." Masks are available in the narthex.
The Closing Voluntaries for the month of August will be drawn from a collection of Eight Little Preludes and Fugues. These charming pieces were originally attributed to J. S. Bach and were assumed to be from his early period of composition. Contemporary scholarship insists that they were probably written by Johann Tobias Krebs or his son Johann Ludwig Krebs, a student of Bach. Regardless of the authorship, these are small gems of contrapuntal writing and worthy of being heard by today's listeners. Today's set in F Major features a rousing, playful prelude with a rather stately fugue.
Bible Study continues on Sundays at 9am and Tuesdays at 10:30am. All are invited!
ECW Luncheon this Thursday: We will meet in the Parish Hall THIS Thursday, 5 August at 11:30am for lunch. Lunch will be served at a cost of $12.00 per person and reservations may be made by calling Linda Brady, Treasurer at 631-665-8330. Reservations are a must and the deadline is TODAY, Sunday, 1 August. All Covid-19 precautions will apply. Please call Joan Derle, President for further information or questions (631-499-8234).
We are hoping to reawaken our Music Program at St. Peter's in September! A high priority is to reestablish our parish's long history of outstanding choirs for children. More about this in the coming weeks, but if you have or know of a child from age 6 through high school with a desire to sing, please speak with Mark as soon as possible. The first parish choir rehearsal will be on Thursday, September 9th at 7:30 pm. NEW MEMBERS are invited in all voice parts. We don't require singers to have great voices . . . only the ability to read music—and that can be at a rudimentary level with a desire to improve! Speak with Mark to get all the details! (And if you DON'T read music, but are willing to learn "on the job", SPEAK WITH MARK!)
Concerts at St. Peter's are returning! The first production to be presented is a very unusual one! The Magical Orchestra is a fusion of traditional orchestral instruments (including our own Gress-Miles pipe organ!) with the sonorities usually associated with pop and rock. See the poster below for more details about the concert on Sunday, September 26th at 7pm. (Please note: This program is presented under the auspices of The Magical Orchestra, Inc. The 2021-2022 program for Music at St. Peter's Concerts will be announced soon!)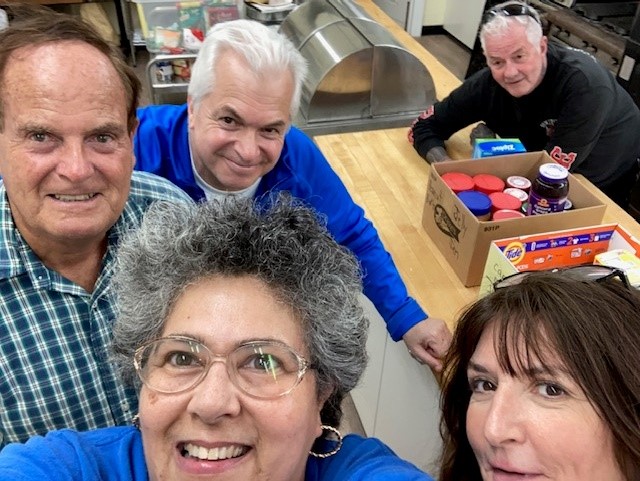 Thank you to our dedicated cleaners for helping in the food pantry as well as the church building in general. Janet isn't pictured but worked hard on the webs and bugs in the choir wing! Please join us on August 14, 9 - 11am. We are blessed with a huge facility that needs loving attention! - Lisa Hallett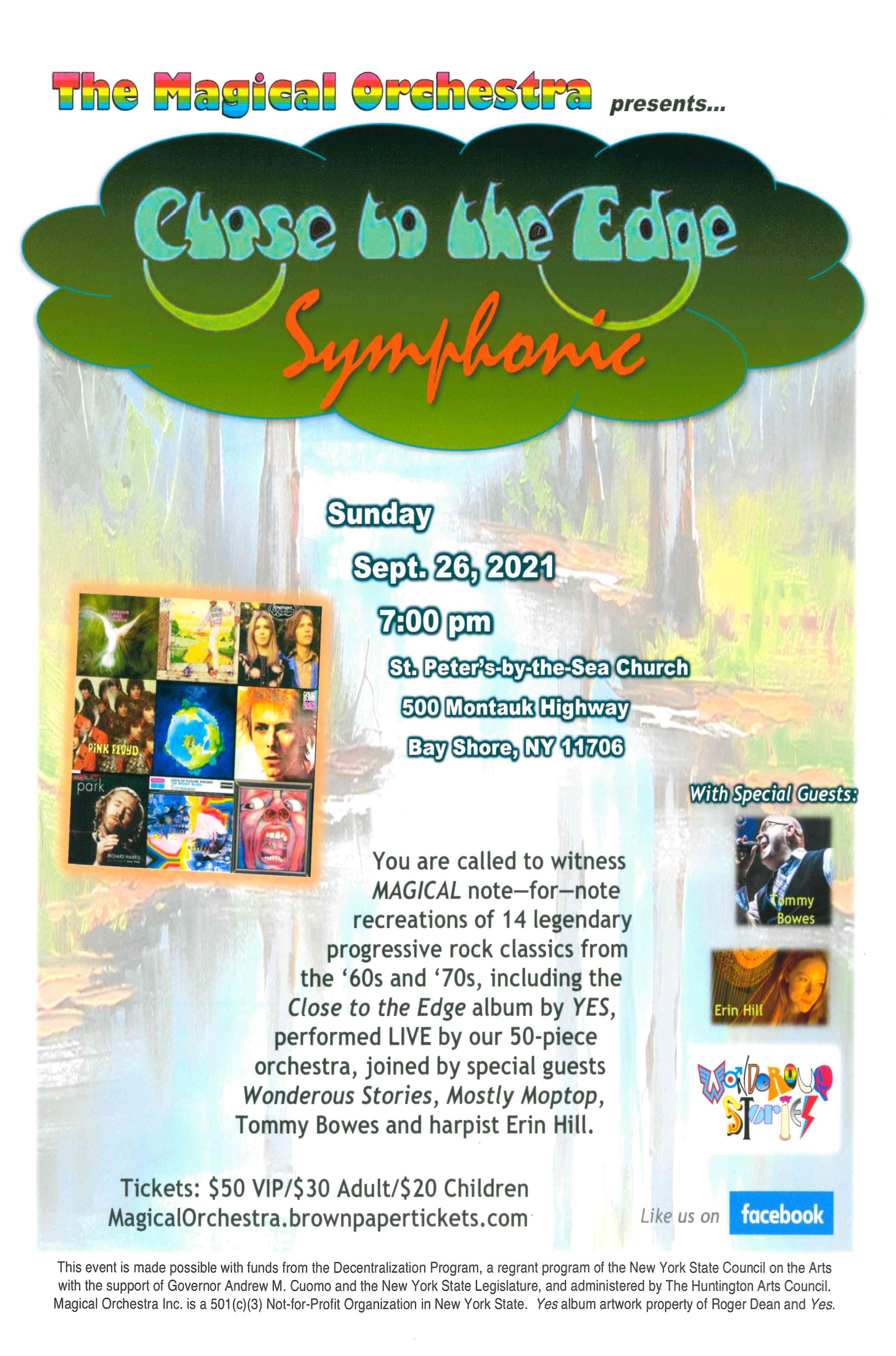 ---
Welcome To St. Peter's!
FOR ALL SERVICES AT ST. PETER'S:

Diocesan and state health guidelines prevail. Please observe the procedures listed below, and as always, thank you for observing these protocols, which is an expression of your care for everyone in the Parish family.
AT THE TIME FOR COMMUNION:
¨ Only the Host (Bread) will be distributed; not wine
¨ Please approach the Altar in SINGLE FILE from the Center aisle only, not the side aisles
¨ Observe Social Distancing in the aisle by using the pew markers for vacant pews
¨ Communicants should sanitize their hands before receiving the host. You may use your own, or a bottle is placed at the head of the aisle
¨ The Host will be placed in the palm of each Communicant, not on the tongue
¨ Please return to your seat, by way of the side aisles
¨ Remove your mask to take the Host, then replace the mask for the remainder of the service
Please also remember, per the mandates of the State of New York and
The Episcopal Diocese of Long Island:
Face Masks are required to be worn by all in attendance at all times.

(We have a supply on hand, if you forgot yours.)
Physical Distancing of 6 feet must be maintained at all times, and pews are marked for that purpose.
Check in upon arrival, and if your name is not in the data base, please provide your NAME, E-MAIL ADDRESS, AND TELEPHONE NUMBER for Contact Tracing.



One-time use paper bulletins are provided, and must be taken away by the user.

Please be sure to take yours with you, and don't leave it behind in the pew or in the Narthex.
Please place your offering in one of the Offering Plates

near the Altar before the service begins. If you came in late, please place it in the plate immediately following the service.
Until further notice, all Day-by-Day booklets and sign-up sheets will be kept in the office. To pick up a tract, or sign up for anything, including memorial flowers, please ask Mark or Brian, or on Sundays, an usher.
Weekdays:

Parish Office is open Monday through Friday 9:30 am until 2 pm.
A warm welcome will greet you at St. Peter's!
St. Peter's by-the-Sea Episcopal Church
500 South Country Road
Bay Shore, NY 11706
Phone: 631-665-0051
Fax: 631-665-0052
Join us on FACEBOOK

www.facebook.com/StPetersbytheSea
https://www.facebook.com/stpetersmusic/
AND FOLLOW US ON TWITTER
https://twitter.com/stpetersbaysho1